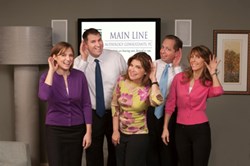 Philadelphia, PA (PRWEB) May 28, 2013
Main Line Audiology Consultants, PC has launched a blog on the company website to provide hearing care tips to Philadelphia-area residents on a regular basis.
The audiologists at Main Line Audiology Consultants have compiled a long list of subjects for the blog. The blog articles will span topics ranging from the latest advances in hearing restoration research, to the different types of hearing loss, to new tinnitus treatment approaches, and answers to frequently asked questions such as how to select an audiologist or a set of hearing aids. The audiologists intend to post a brand new post on a weekly basis. Articles published to the blog section will also be readily available via Main Line Audiology Consultants' Twitter and Facebook accounts. The blog's RSS feed will conveniently distribute all new posts.
Main Line Audiology Consultants is encouraging everyone who wears hearing aids in Philadelphia as well as all former and current patients to visit the blog regularly. Currently, the blog only contains a handful of articles, but it will expand rapidly over time. As of today, visitors will find information on the following topics:
Answers to Questions on Using a Hearing Aid in a Noisy Situation
Differences Between Wearing 1 or 2 Hearing Aids
Finding a Compatible Hearing Aid / Cell Phone Combination
Home Safety Considerations for Family Members with Hearing Loss
Main Line Audiology Consultants invites all patients and Philadelphia residents who wear hearing aids or are suffering from hearing loss to submit additional ideas for categories or topics.
About Dr. Kathy Landau Goodman
Dr. Kathy Landau Goodman received her Doctorate degree in Audiology from Central Michigan University. She received her Masters degree in Audiology and Speech-Language Pathology from Hahnemann Medical College and Hospital and is certified by the American Speech-Language-Hearing Association. Dr. Goodman is a Fellow of the Academy of Doctors of Audiology and the American Academy of Audiology and is licensed in both Pennsylvania and New Jersey. Additionally, she is Chair of the Audiology Awareness Campaign since 1994 and the Audiology Consultant to the U.S. Department of Labor and the School District of Philadelphia.
About Main Line Audiology Consultants, PC
Main Line Audiology Consultants, P.C. is committed to patient education. All of our audiologists have completed years of study to help us provide the highest standards of hearing care. Our every day experience helps us to perform thorough hearing evaluations and to educate our patients on both hearing loss and the best technology available today. Main Line Audiology Consultants has 5 locations in the Philadelphia area, a relationship with the School District of Philadelphia to serve the hearing needs of the young, and a network of partnerships with local retirement communities and assisted living facilities to serve the young at heart. Six full-time audiologists serve the five locations with Founder and President Dr. Kathy Landau Goodman as the team leader.
Contact:
Dr. Kathy Goodman
http://www.mainlineaudiology.com
Main Line Audiology Consultants, PC
2 Franklin Town Boulevard
Philadelphia, PA 19103
(610) 616-4982
Main Line Audiology Consultants, PC
10000 Shannondell Dr.
Audubon, PA 19403
(610) 616-4513
Main Line Audiology Consultants, PC
916 Montgomery Avenue
Penn Valley, PA 19072
(610) 616-3183
Main Line Audiology Consultants, PC
505 York Road
Jenkintown, PA 19046
(610) 616- 4622
Main Line Audiology Consultants, PC
100 East Chester Pike
Ridley Park, PA 19078
(610) 616- 4134