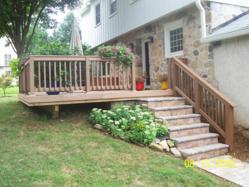 Philadelphia, PA (PRWEB) March 01, 2012
Today, MK Remodeling announced tips for contemporary deck construction. With the spring/summer outdoor season fast approaching, many homeowners are thinking about decks. Whether it's a matter of installing a brand new one or replacing an existing one, it's important that it be built right. Indeed, since 1999 more than 850 injuries and 20 deaths have been reported due to deck failures.
According to Mike Krakovitz, owner of MK Remodeling, Inc., in Philadelphia, the average lifespan of a wood deck that's been maintained properly is more than 20 years. And composite decks, which require little maintenance, last even longer. Nevertheless, it is estimated that there are millions of decks in the U.S. that are beyond their lifespan and could, in fact, be dangerous.
Krakovitz says the most important consideration when adding or replacing a deck is the hiring of a good contractor. "It's critical that people use licensed and insured contractors," he says. "And having a contractor who, for example, is factory certified by the manufacturer should also be a consideration." Krakovitz's company is factory certified by a number of composite wood decking manufacturers, such as Trex, TimberTech, and many others.
While Krakovitz installs both wood and composite decks, he says that more and more, people are choosing composites. "There are pros and cons to both," he says. Some people, for example, really want the natural, earthy appearance of traditional wood decks. Others like the environmentally friendly idea of composites, which are made from a combination of recycled wood and recycled plastic. And, in fact, some composites come in finishes that mimic wood surfaces.
"While composites are generally more expensive than wood," says Krakovitz, "They offer significant advantages in many instances. They don't require any special treatments and are relatively easy to maintain."
In sum, whatever type of deck a customer chooses, they should always ask for references and insist on a detailed quote specifying exactly what the contractor is going to do. MK Remodeling has been in business since 2000. But Mike, himself, has been in the construction business for more than 40 years and says he has built upwards of 500 to 600 decks. "A customer may be able to get a lower quote," says Krakovitz. "But there's usually a reason for that."
To find out more about MK Remodeling, please visit http://www.mksremodeling.com.
About MK Remodeling, Inc.
MK Remodeling, Inc., is a family owned and operated remodeling and restoration company with an A+ rating from the Better Business Bureau. They offer design-build services for additions, kitchens, bathrooms, decks, along with insurance restoration and emergency services for water, fire, and wind damage, and much more. Mike Krakovits, Sr., has more than 40 years experience and has received numerous awards and commendations for his work. He is partners with his son, Michael, who gave up a career as a teacher to become involved in the construction business. His other son, Dan, plans to join the family's business after graduating college. MK Remodeling proudly serves Delaware, Chester, and Montgomery Counties.
# # #