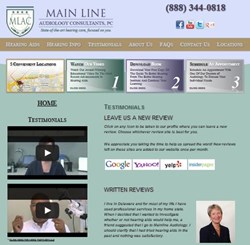 The outstanding client service began the minute I made the first phone call. Every person I spoke to was patient, kind and professional.
Philadelphia, PA (PRWEB) April 16, 2013
A brand new section has been added to the website of Main Line Audiology Consultants to showcase hearing aid reviews and testimonials from the Philadelphia area. The brand new page on the site is a place to publish the hearing aid, hearing loss, tinnitus and hyperacusis stories of past and current patients of the practice. Adding these incredibly personal testimonies will go a long way toward de-stigmatizing hearing loss by allowing people to see themselves in the accounts of others. People with hearing problems need to understand that they're not alone in their efforts to discover solutions. Solutions are available. The new Philadelphia hearing aids testimonials section will help the residents of Philadelphia find a community of people that have gone through the same experience.
There are many different reasons for hearing loss, and visitors to the website should not try to diagnose themselves. Individuals that suspect they have some form of hearing loss or who are experiencing pain or ringing in the ears should be evaluated by a qualified audiologist. Diagnosing the underlying hearing loss cause generally starts with a hearing test and physical examination of the ears. The solutions that have worked for the other patients featured on our testimonials page, will not be appropriate in all cases.
About Dr. Kathy Landau Goodman
Dr. Kathy Landau Goodman received her Doctorate degree in Audiology from Central Michigan University. She received her Masters degree in Audiology and Speech-Language Pathology from Hahnemann Medical College and Hospital and is certified by the American Speech-Language-Hearing Association. Dr. Goodman is a Fellow of the Academy of Doctors of Audiology and the American Academy of Audiology and is licensed in both Pennsylvania and New Jersey. Additionally, she is Chair of the Audiology Awareness Campaign since 1994 and the Audiology Consultant to the U.S. Department of Labor and the School District of Philadelphia
About Main Line Audiology Consultants, PC
Main Line Audiology Consultants, PC is committed to patient education. All of our audiologists have completed years of study to help us provide the highest standards of hearing care. Our every day experience helps us to perform thorough hearing evaluations and to educate our patients on both hearing loss and the best technology available today. Main Line Audiology Consultants has 5 locations in the Philadelphia area, a relationship with the School District of Philadelphia to serve the hearing needs of the young, and a network of partnerships with local retirement communities and assisted living facilities to serve the young at heart. Six full-time audiologists serve the five locations with Founder and President Dr. Kathy Landau Goodman as the team leader.
Contact:
Dr. Kathy Goodman
http://www.mainlineaudiology.com
Main Line Audiology Consultants, PC
2 Franklin Town Boulevard
Philadelphia, PA 19103
(610) 616-4982
Main Line Audiology Consultants, PC
10000 Shannondell Dr.
Audubon, PA 19403
(610) 616-4513
Main Line Audiology Consultants, PC
916 Montgomery Avenue
Penn Valley, PA 19072
(610) 616-3183
Main Line Audiology Consultants, PC
505 York Road
Jenkintown, PA 19046
(610) 616- 4622
Main Line Audiology Consultants, PC
100 East Chester Pike
Ridley Park, PA 19078
(610) 616- 4134