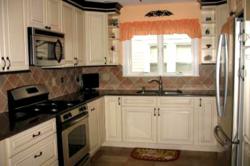 In the event of any kind of mishap, it would be wise to make sure the contractor is licensed and insured.
Philadelphia, PA (PRWEB) May 16, 2011
Today, top Philadelphia home remodeling contractor VCG Construction released best practices to help consumers avoid common mistakes when working with remodeling contractors. During his 15 years in the business, Vince Carneglia, owner of VCG Construction, has heard many horror stories from customers dissatisfied with other contractors who come to him to fix their mistakes – everything from cost overruns to shoddy work. To help consumers avoid mistakes when planning their next remodeling or renovation project, Vincent shares the following tips:
1. Make sure the contractor is licensed and insured: "In the event of any kind of mishap, it would be wise to make sure the contractor is licensed and insured," Vincent cautions. "With a kitchen remodel, you have gas, electric, and plumbing in a small space. There's a lot that could go wrong."
2. Find a contractor with extensive experience - Check out their qualifications and work accomplishments. A good contractor will communicate well and lean on their past experiences to help create the best kitchen on the lowest budget.
3. Beware of contractors who give a low bid, tear the house apart, find 'unforeseen issues,' and then hike the price of the job up - "In today's marketplace, we've seen a trend of contractors giving low-ball bids, getting into a client's house, ripping it all apart, and holding their client hostage so to speak," Vincent says.
4. Find an experienced contractor who can help you with the layout - A kitchen renovation often delivers the highest value for your dollar. To design and build the most attractive and functional kitchen, you'll need the expertise and skills of a kitchen contractor who can suggest improvements that delivers maximum impact with minimal cost.
5. - A good remodeling contractor should have plenty of good suppliers and be able to provide you with a wide array of materials to choose from at affordable prices. For example, VCG offers cabinetry from multiple manufacturers with lots of affordable options. In addition, the company offers a wide range of countertops, flooring, and lighting solutions for every budget and has an alliance with Kieffer, a major appliance wholesaler, offering the most desirable brands at competitive prices. "Our goal is to ensure that you get the most for your hard-earned dollars," Vincent states.
To learn more about VCG Construction and see examples of their work, please visit their website at http://www.vcgconstruction.com or their BuildZoom profile.
About VCG Construction
VCG Construction is a general contracting company, licensed and insured, with the knowledge and experience to create spaces in your home that are functional, fashionable, and timeless. Every renovation, from kitchen remodels to window replacement, and everything in between, is expertly installed to last a lifetime and uses the best materials available.
# # #