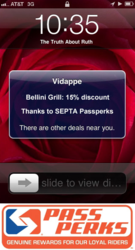 Philadelphia, PA (PRWEB) September 27, 2011
Vidappe, a location-based discount app, alerts all Philadelphia metro riders of the free discounts they can use thanks to their SEPTA and PATCO fare cards. Get close to a discount, get an alert through the app – "15% off at the Bellini Grill a block away thanks to your metro transit card."
The metro transit fare cards for SEPTA and PATCO don't just allow riders to ride the metro – they also double as discount cards and allow riders to save all over the greater Philadelphia area. There are 150+ SEPTA discounts and 90+ PATCO discounts at local restaurants, museums, attractions, and more, all of which can be redeemed simply by showing the merchant your card. Not only is riding SEPTA and PATCO a necessity for most Philadelphia residents, their transit fare cards double as a useful way to save money all over town.
Vidappe has stored all these discounts offered within the app and will send the user an alert when he gets physically close to one around Philadelphia. In addition to the SEPTA and PATCO discounts, Vidappe has stored the discounts for over 170+ other organizations around the US, ranging from Columbia University student discounts in NYC to the Washington State University Alumni Association membership perks.
A user would subscribe to whatever organization he's associated with, and will never again miss out on a perk because Vidappe will do the "remembering" for him. Since it's inception three months ago, Vidappe has grown to over 1,400 users and will only continue to expand in programs and users. Vidappe is a convenient, simple, tool that will not only remember everything for the user but will make saving money virtually effortless.
###