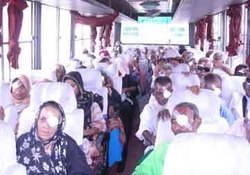 Our mission is to eradicate curable blindness in Bangladesh by providing free cataract surgeries for the disadvantaged.
Hollis, NY (PRWEB) September 27, 2010
Touching Souls International will provide three eye camps in Bangladesh on September 26th, October 17th and November 21st of 2010. In each eye camp, more than 1,000 individuals will receive eye screening and treatment. Free cataract surgery with lens implant will also be provided to around 60 economically disadvantaged patients in each camp. The eye camps are just one of several projects Touching Souls International is providing to the disadvantaged people of Bangladesh.
In each eye camp, up to 60 patients selected for free cataract surgery will be taken to Mymensingh BNBS Eye Hospital and to receive cataract removal surgery and lens implant. On the third day of the campaign, all patients will be brought back to the original place of the eye camp Office. A month later after the surgery doctors from Mymensingh BNBS Eye hospital will go to the camp location to give a follow up treatment and needed glasses for the patients. All expenses for these eye camps are provided by the nonprofit organization, Touching Souls International.
A large number of individuals in Bangladesh are cataract blind, a condition that is curable in most cases. However, for many Bangladeshis, cataract surgery is very expensive. As a result, many who are cataract blind may remain blind throughout their lives. Since Touching Souls International began its eye sight and blindness prevention project in 2005, the organization has performed 564 cataract surgeries with lens implant free of charge for the poor people of different districts of Bangladesh. In addition, more than 11,100 patients have received eye screening and treatment as part of the program.
For more than 25 years, friends and family members of the organization have supported many projects in Bangladesh. On top of its eye and cleft-lip/cleft-palate camps, Touching Souls International provides a variety of other services to the people of Bangladesh. Since 2001, did 36 cleft lip camps in different districts of Bangladesh, in each one providing 15 to 70 free cleft-lip surgeries for the needy people. The organization's Artificial Limb Project, for example, provided artificial limbs to 10 patients in 2009 and 4 patients in 2010, while its Palliative Care Project continually works to provide funding for palliative care to those who are nearing the end of their lives. Touching Souls International also runs one school of 225 students and another one of 130 slum kids, provides educational scholarships to those in grades 5 through 12, provides fellowships for water forum journalists, and runs a self-reliant program to help individuals gain back their self reliance and self respect. The organization also runs a home for the homeless program and an arsenic awareness program in different districts of Bangladesh. Carry out 10 free surgical operations per month on Hydrosil, Hernia, Piles, Tumor, at Nurture General Hospital by hired Surgeons & Anesthetists and Nurture's operation theater, Nurture's Hospital facilities, Nurses & other paramedics and free beds. Provides free Mother & Child primary health care services at the out-door of Nurture General Hospital at a nominal registration fee of Tk-20/- per patient, 5-days per week by female M.B.B.S. Doctors trained in either or Gynecology/obstetrics/Mother- care/Child-care.
"Our mission is to eradicate curable blindness in Bangladesh by providing free cataract surgeries for the disadvantaged," says Tahmina Sultan, President of Touching Souls International.
For more information about Touching Souls International or its Sight Restoration and Blindness Prevention Project, visit http://www.touchingsoulsintl.org/.
Contact:
Tahmina Sultan
917-388-6641
tahminasultan(at)aol(dot)com
# # #