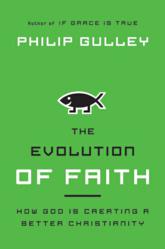 Gulley's Christianity gets away from what we've always been taught; he teaches us to embrace the freedom to let go of those tenets of Christianity that are no longer furthering the faith, and re-imagine a Christianity we can believe in...
San Francisco, CA (PRWEB) June 07, 2011
According to Philip Gulley, Christianity has centered on constraint, tradition, and doctrine for too long. As a result, people not only have trouble stomaching the concepts of original sin, a God who sends people to hell, and Jesus as the only path to God—they even turn away from the faith altogether.
Now, THE EVOLUTION OF FAITH: How God Is Creating a Better Christianity (HarperOne; June 2011; Hardcover; $24.99) continues Gulley's ongoing effort to uncover a Christianity that celebrates the best of humanity rather than the worst, that is compassionate toward those who follow other faiths, that respects science, and is rooted in God's grace and the example of Jesus' life. It is aimed at those who are disillusioned with the church, who struggle to find religion relevant to their contemporary lives, as well as those who cannot reconcile a Christianity predicated on an outdated worldview with their personal viewpoints.
Gulley's Christianity gets away from what we've always been taught; he teaches us to embrace the freedom to let go of those tenets of Christianity that are no longer furthering the faith, and re-imagine a Christianity we can believe in—one that presents a vibrant and viable path toward developing a living, breathing, flexible Christian faith for our times. Ultimately Gulley wishes readers "a life well-lived, a life of compassion, grace, dignity, seeking and celebrating authenticity and integrity wherever you find it."
ABOUT THE AUTHOR
Philip Gulley is a Quaker minister, writer, husband, and father. He is the bestselling author of Front Porch Tales and the acclaimed Harmony series, as well as If Grace Is True and If God Is Love coauthored with James Mulholland. He hosts Porch Talk on the Emmy-winning Indiana PBS affiliate WFYI show "Across Indiana." Gulley lives with his wife and two sons in Indiana and is a frequent speaker at churches, colleges, and retreat centers across the country. Visit the author online at http://www.philipgulleybooks.com
PRAISE FOR THE EVOLUTION OF FAITH
"No one raises provocative questions about Christianity more kindly than Philip Gulley."
— Diana Butler Bass, author of Christianity for the Rest of Us
"Whether you agree with all of Philip Gulley's theology—and in several places I don't—there is no question about the fact that he has defined here more clearly than perhaps any other contemporary commentator the current truth about the Church. Every serious Christian ought to read this book, ponder it, wrestle with it, but above all, be grateful for its presence in today's urgent conversation about what we are and are becoming as a people of God."
— Phyllis Tickle, author of The Great Emergence
"In our ever changing world, Gulley's book is much needed. An important book for any person of faith."
— Archbishop Desmond Tutu, author of Made for Goodness
"If I were forced to pretend to believe in God again, I would choose Philip Gulley's God: a deity who cares not whether you worship him, but how you treat other people."
— Dan Barker, author of Godless
THE EVOLUTION OF FAITH
How God Is Creating a Better Christianity
By Philip Gulley
HarperOne, an imprint of HarperCollinsPublishers
June 2011 | Hardcover |$24.99 | ISBN: 9780060736606
# # #