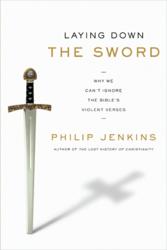 San Francisco, CA (PRWEB) October 25, 2011
In the Bible, Jesus states, "I have not come to bring peace, but a sword."
The holy book is full of such dark and violent verses. Yet the Western world clings to a dangerous perception: while the Qur'an teaches warfare, the Bible's message is one of love and charity. In his new book Laying Down the Sword: Why We Can't Ignore the Bible's Violent Verses (HarperOne; November 2011; $26.99; Hardcover), renowned scholar Philip Jenkins offers a fearless examination of the dark and violent verses of the Bible and a call to read them anew in pursuit of a richer, more honest faith.
Jenkins writes, "Many Westerners consider Islam to be a kind of dark shadow of their own faith, with the words of the Qur'an standing in vicious contrast to the scriptures they themselves cherish." The September 11th attack and the militant way in which some Muslims interpret the concept of jihad are cited as examples of the inherently violent nature of Islam.
However, fanaticism is no more hardwired in Islam than in Christianity. In fact, in many eras, Christianity has initiated more violence and bloodshed than any other religious tradition—and could again, under the right conditions, Jenkins warns.
But he also demonstrates with stunning historical and sociological evidence that the mere existence of bloody sacred texts does not lead to violence. So what does motivate religious adherents to seize upon violent verses? And how can modern-day believers interpret these passages?
As Jenkins observes, "a bloodless Bible offers cheap Grace." In Laying Down the Sword, Jenkins— "one of America's best scholars of religion" (The Economist) —poses unsettling and important questions about the origin and true nature of our great monotheistic religions.
ABOUT THE AUTHOR
Philip Jenkins, the author of The Lost History of Christianity, Jesus Wars, and The Next Christendom, has a joint appointment as the Edwin Erle Sparks Professor of the Humanities in history and religious studies at Penn State University and as Distinguished Senior Fellow at the Institute for Studies of Religion at Baylor University. He has published articles and op-ed pieces in The Wall Street Journal, The New Republic, The Atlantic Monthly, The Washington Post, and The Boston Globe and has been a guest on top national radio shows across the country.
ADVANCE PRAISE FOR LAYING DOWN THE SWORD
"Jenkins is one of America's top religious scholars."
— Forbes
"Philip Jenkins looks unflinchingly at biblical stories of mayhem, murder, genocide and war. While the faithful ignore or abuse these passages, Jenkins argues that reading them rightly opens up important questions of biblical interpretation, religious terrorism, and interfaith understanding. Taking this book seriously will change your perspective on the seemingly violent God of the Bible and give you hope that Christians, Jews, and Muslims might find new paths of peace together."
— Diana Butler Bass, author of A People's History of Christianity
"Philip Jenkins is a first rate historian of Christianity, and here he applies his good critical eye to what seems a conundrum—Do sacred texts about violence in fact cause violence? And if the texts about violence in the OT don't cause violence, why would we think similar texts in the Koran do so? Carefully written with plenty of god research, Jenkins urges us to rethink how exactly and to what degree sacred texts influence the behavior of devout persons. Highly recommended."
— Ben Witherington, III, Amos Professor of NT for Doctoral Studies, Asbury Theological Seminary
"A provocative and timely comparison of the legacies of violence in Christianity, Judaism, and Islam. With verve and sweeping insight, Jenkins challenges all of our stereotypical assumptions about religion, bloodshed, and terror."
— Thomas S. Kidd, author of God of Liberty: A Religious History of the American Revolution
"Laying Down the Sword shows why Philip Jenkins is one of our nation's most renowned scholars of religion. This book clearly illuminates the often confusing intersection of sacred texts, religious history and current affairs. It is a guide for interpreting our own faith, and understanding other faiths, in a way that helps us move from the world that is to the world that ought to be."
— Eboo Patel, Founder and President, Interfaith Youth Core
LAYING DOWN THE SWORD
Why We Can't Ignore the Bible's Violent Verses
By Philip Jenkins
HarperOne, and Imprint of HarperCollinsPublishers
November 2011│Hardcover│$26.99│ISBN: 978-0-06-199071-7
# # #