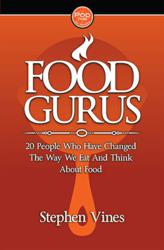 Every generation discovers a new cuisine and what they discover is some sort of development of an existing cuisine.
Hong Kong (PRWEB) January 21, 2013
Journalist, entrepreneur, and author Stephen Vines believes food is as ubiquitous a topic as there is. It keeps people of all generations widely engaged: as a producer, supplier, consumer—in an age where cookbooks and culinary shows have a strangely mass appeal. His new book, Food Gurus: 20 People Who Have Changed The Way We Eat and Think About Food, published by PodTribe, provides compelling biographies of 20 renowned personalities who have changed the way we eat.
"The reason I wrote the book was a process of self-education," Vines, a long-time journalist who operates his own chain of eateries and coffee shops, said. "I was trying to learn more about not just chefs, because chefs obviously have changed the way we eat, but about the people who are most responsible for this enormous evolution of interest in food." The gurus—or food fanatics, as Vines calls them—were chosen not by the recipes they crafted nor the techniques they devised, but by the unmistakable impact they made on the appreciation of food.
"Henry Heinz," said Vines, "did not invent canning, but think about the way canning has made it possible to eat vegetables in any season." Isabella Beeton, who lived in the Victorian era, might have never even cooked, but produced recipe and household management books that sold so well her husband concealed her early death to protect the business. Ray Croc did not create McDonald's, but is credited with developing the brand and the fast food empire the company has become.
Vines says his book provides a layman's understanding of the culinary arts. For example, he says he invalidates the concept of nouvelle cuisine. "Every generation discovers a new cuisine and what they discover is some sort of development of an existing cuisine," he said. He also noted how changes in food transportation, storage and freezing, to name just some innovations, have revolutionized eating by maximizing the availability of ingredients.
Food has become a subject in itself, "not just a means of sustenance," Vines said.
Food has also allowed people, like these food gurus, to become inspirations of determination and ingenuity. Elizabeth David, a strong influencer of British cookery, suffered from a minor stroke at 49, but continued with her work. Heinz started working at the age of six, planting vegetables with his mother, and by 10 he was already a supplier to local restaurants. They "refuse to be defeated," said Vines. If reading is as good as eating, Food Gurus would be a fine full-course meal.
Food Gurus is available in Kindle edition at just US$6.99. Visit Amazon to purchase a copy.
About PodTribe
PodTribe is an eBook publisher, distributor, and retailer delivering high-quality titles in various digital formats for a range of popular eReaders and other devices. PodTribe is committed to creating and distributing a body of engaging, thought-provoking work from respected authors and thinkers.
The Hong Kong-based company is publisher of the "How to be an Icon" series, which features the biographies of historical and contemporary icons in a relevant and entertaining format. Packed with illustrations, quotes, anecdotes about fellow icons and relevant web links, the series aims to bring the biography to life.