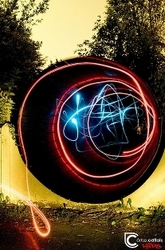 Pinoys who make a hobby of it will usually post their light writing in Flickr or their Multiply sites
Philippines (PRWEB) October 3, 2009
Light writing is now fast becoming the next big thing among young, creative Filipinos. In the hands of the artistically gifted, light writing becomes a form of stop motion animation, or simply an art of "painting on air" -- when light seems to become more fluid, creating squiggles, shapes, even drawings and landscapes.
"The technique of light writing is actually very old. Even in the days when the artistic possibilities of the film camera were being explored in the early 20th century, photographers already knew that you could create an optical illusion of light becoming fluid enough that you could 'write' or 'draw' with it -- and capture those images on film."
"Today, the basic principle is the same even when you use a digital camera. You still play with exposures, shutter speed and light sources. The more creative you are, even with just basic equipment, the more exciting your light writing creations will be. Anybody with the basic knowledge of photography can learn to do light writing--but of course, the more talent and hard work you put in, the better your output will be," says photographer Walter Villa.
Villa says that the playfulness involved in light writing makes it a favorite among Pinoys who like to experiment with photography. "Pinoys who make a hobby of it will usually post their light writing in Flickr or their Multiply sites," says Villa.
Essentially, light writing creations are made when still images are captured by a film or digital camera in low light conditions, then sequenced in such a way as to produce an illusion of movement. What would otherwise be dark, simple scenes come alive with colorful streaks of light.
Though the images produced in light writing seem quite cutting-edge, the first image of light writing was actually produced back in 1949 by a man using only a handheld light source and a camera. Renowned more for his brilliant paintings and sculptures, the great Pablo Picasso introduced what would become one of the most astounding, eye-catching effects in modern photography.
In the years ahead, light writing would become an oft-used style for many photographers, but it was usually limited to the professionals. It didn't have the same mainstream popularity as other photography styles, until much later.
Some 60 years after the old master pioneered the art form, today's youth have begun to turn their eyes towards light writing. The fun, expressive, and exciting nature of light writing appeals to these playful people. And thanks to advances in technology, cameras have also become more accessible and easier to use even for budding photographers.
Armed with better cameras, a wider selection of light sources, and an abundance of creative juice, these young photographers are churning out beautiful images that would have made Picasso proud.
Light writing basically requires three things: a camera, a light-emitting object, and a dark or dimly lit space.
The camera is then set to a high aperture size and longer exposure times. Various camera techniques such as zooming, panning, and tilting may also be employed in light writing to produce a greater variety of effects.
When it comes to light sources, the choices are limited only by the imagination: flashlights, fireworks, glow sticks, lasers, candles and even matches have been used to great effect.
Indeed, light writing just shows that even when you're in the dark, endless beautiful possibilities are just a few camera clicks away.
###