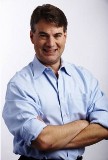 Austin, Texas (PRWEB) July 09, 2012
Phill Grove, the creator of the first post bubble real estate strategy known as the Assignment of Mortgage Payments System, has released a report on how real estate professionals can best utilize Twitter for their marketing campaigns and customer service requirements. To read the report, please visit http://www.reimaverick.com/top-twitter-tips-for-real-estate-businesses/.
"In today's tough economy, real estate professionals need to think outside the box to find better ways to communicate with customers," says Mr. Grove, who owns multiple real estate investing companies, such as Love American Homes and Hippie Hollow Homes in Austin, Texas. "You have to do more than just hire a Realtor and stick a sign in your front yard. Utilizing social media, press releases, video marketing, and text messaging are just a few advancements that you'll have to take advantage of if you want to compete in today's marketplace."
Twitter is a veritable cornucopia for anyone who is trying to spread word about their business, and realtors and real estate agencies are among those should want to take advantage of the 100 million users of the social media giant.
"In this report, I'll not just tell you what you should be doing," continues Mr. Grove. "I'll also detail what you should avoid."
For more information on Phill Grove and the Assignment of Mortgage Payments System, please visit his official blog at http://REIMaverick.com