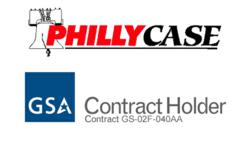 "Philly Case has always been a reliable supplier of tough shipping cases to government buyers. With our GSA contract award now in place, it's even easier for such buyers to do business with us via GSA," says Vinny Barbati, President of Philly Case
Philadelphia, PA (PRWEB) December 20, 2012
Philly Case Company was recently awarded a five year GSA Contact # GS-02F-040AA to supply shipping cases under GSA Schedule 81 I B (Shipping, Packaging, Packing Supplies), with Special Item Number (SIN) / Category 617 2 that includes shipping cases. GSA (US General Services Administration) buyers can now purchase Philly Case shipping cases using their GSA accounts, including online purchasing via GSA Advantage!(R) and GSA eBuy.
Philly Case is listed in the GSA system as contractor: Tre-Ray Cases, Inc. DBA: Philly Case Co. The current contract award period runs from November 6, 2012 to November 5, 2017. Any GSA purchasing account holder can buy cases from Philly Case, including buyers from the US Federal Government, US Military, state and local agencies who have a GSA account. GSA buyers can check the GSA page on the Philly Case website for more information on how to purchase cases from Philly Case.
Vinny Barbati, President of Philly Case Company, comments, "Philly Case has always been a reliable supplier of tough shipping cases to government buyers. With our GSA contract award now in place, it's even easier for such buyers to do business with us via the GSA system."
For GSA buyers, Philly Case now offers its own lightweight tongue-and-groove poly cases, flat screen shipping cases, roto-molded graphics shipping cases, poly banner stand cases, and a variety of other roto-molded plastic shipping cases. These cases are designed and manufactured by Philly Case in the USA. In addition, Philly Case is an authorized distributor for SKB Cases, and offers an assortment of SKB's 3i Injection Molded Military Standard Waterproof Utility Cases. These SKB cases are also made in the USA.
In addition to these standard-sized stock cases, GSA buyers can also now work with Philly Case for custom shipping cases. Philly Case is a premier manufacturer of custom wooden ATA cases in the USA and has been supplying shipping cases of all sorts to government and military buyers for many years.
About Philly Case
Philly Case is one of the world's leading shipping case manufacturers and a distributor of many leading case brands. For over 80 years, Philly Case has been building tough shipping cases that protect products, goods and equipment during shipping. Philly Case specializes in building ATA cases that are sturdy, reliable, durable and meet or exceed the ATA 300 Category 1 standard. Philly Case also makes and distributes complete shipping case product lines including tradeshow cases, poly cases, rackmount cases, workboxes, tool cases and weapons cases.
For complete information on Philly Case and all shipping case product offerings and capabilities, to buy cases online, or submit a request for quote, please visit the Philly Case website, call 215-551-6811 or toll-free 800-505-8179.