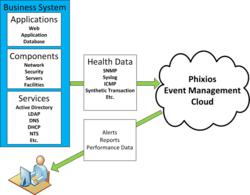 100% Agentless Monitoring from the Cloud
Frisco, TX (PRWEB) June 30, 2011
Phixios is pioneering a 100% no touch approach to any devices being monitored. No additional software is required to be installed on servers or network devices. With the Phixios cloud service customers can be setup to begin monitoring their environment within 24 hours – without any capital investment required.
Once Phixios is monitoring the environment, Phixios provides email notification when there is an issue or potential issue of a business system by sending alerts with detailed performance information. This permits the customer's technical teams to engage and resolve the problem, supporting ITIL Event Management processes.
Phixios is configured to alert on the initial cause of outages and to eliminate downstream effects of the initial outage. This allows customers to focus on the correct problem and not chase symptoms to reduce the mean time to repair incidents.
The Phixios service also provides a portal that allows customers to view an overview health of their environment, detailed performance data for their systems and components, trends, and performance reports.
The Phixios solution is a great way for companies to utilize Best Practice implementation of enterprise ITIL Event Management / IT Monitoring software without the hardware, software, and support costs of a dedicated solution.
###