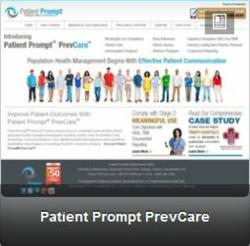 Patient Prompt's PrevCare Program has reduced costs and simplified our population health management efforts.
Toronto, Ontario (PRWEB) April 24, 2013
Patient Prompt®, North America's leading innovator in advanced patient communication, has developed a fully customized population health management communication solution that completely automates patient adherence programs consistent with core objectives in meaningful use compliance.
Specifically developed to meet the needs of ACO's, multi-group practices, and hospitals with divergent scheduling systems who are seeking a way of leveraging and enhancing their existing EMR solution. This unique application integrates with existing EMR/PM Scheduling systems to improve its patient outreach capabilities.
Patient Prompt® PrevCare™ has the ability to intelligently identify key patient demographics for chronic care, wellness, and drug adherence programs, and contact patients by highly customized voice messaging, text/sms messaging, and email messaging to confirm critical medical appointments in real time, providing practices with the most up to date information regarding patient compliance.
Chronic care is a serious issue with 46.2% of the U.S. population having least one chronic condition, and this number is projected to increase. Almost half of all people with chronic conditions have multiple chronic conditions.
Patient Prompt® PrevCare™ assists practices in three important ways:
1) By reliably engaging patients for preventative tests
2) By assisting in informing and educating patients with high risk behaviours through effective communication
3) By providing practices the ability to close gaps in their communication capabilities to reach patients more reliably
Practices utilizing this technology are experiencing adherence recovery rates well over 80% and patient appointment confirmations as high as 97%, making Patient Prompt® PrevCare™ an industry leader in this field.
"Our PrevCare™ initiative was developed in response to our enterprise clients seeking to create a more effective patient outreach program that would integrate with their existing EMR, and compliment their preventative care programs. The one critical component missing from most population health management initiatives is the ability to reliably bring patients back for their appointments, Patient Prompt® PrevCare™ closes the loop and provides an effective solution that works with virtually any EMR/PM scheduling system," says Jeremy Greven – President & Founder Prompt Alert Inc.
Patient Prompt® will be exhibiting its PrevCare™ initiative at the upcoming AAOE Annual Conference in San Diego, CA from April 28-30, 2013. They will be located at Booth #317.
To find out more information regarding patient Prompt Prompt® PrevCare™ visit: http://www.patientprompt.com/prevcare/.
About Patient Prompt
Patient Prompt® is a subsidiary of Prompt Alert INC®. Since 2004 Patient Prompt® has provided innovative effective patient communication solutions for the health care sector. Its patented technology is currently assisting thousands of high volume practices, confirming millions appointments each month on behalf of its subscribers, significantly reducing costs, increasing revenue and improving efficiencies in the practice environment. As the premier bi-directional patient engagement solution in health care, Patient Prompt® offers highly customized patient communication strategies to enhance existing EMR/PM scheduling systems.
For more information visit: Patient Prompt
For Corporate Inquires Contact:
Corporate Affairs
Prompt Alert INC® | Patient Prompt®
Phone: 1.800.417.9486 x 414
Fax: 1.866.390.1486
info(at)promptalert(dot)com
http://www.patientprompt.com