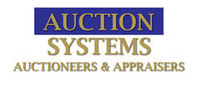 The Fisher and Stephens estate auction features a wide variety of antiques and collectibles
Phoenix, AZ (Vocus) October 7, 2010
Phoenix auctioneers, Auction Systems Auctioneers & Appraisers Inc., will be hosting a live auction featuring antiques and collectible from the estate of Fisher and Stephens including bronzes, paintings, antique toys, furniture, fine crystal and china and more on Sunday, October 10, 2010. Items will also be available for online bidding Sunday, October 3, 2010.
This auction will feature antiques and collectible from manufacturers that include Haviland, Bavaria, Meito, Willow, Royal Winton, Fenton, Macbeth Evans, Hull and many more.
"The Fisher and Stephens estate auction features a wide variety of antiques and collectibles," said Deb Weidenhamer, CEO of Auction Systems. "This auction event will provide attendees, specifically collectors, a great opportunity to get a low price on collectibles from some of the most highly-regarded manufacturers in the world."
Items of at this estate auction include: Seth Thomas Clock patented 1880, Antique Monarch Iron range wood burning stove, Amish furniture, Yawman & Erbe Mfg. antique filing cabinet, 1959 Maytag dryer, antique majestic console radio and an antique tractor set.
The auction will be held on Sunday, October 10, 2010 and will begin at 12:00 p.m. at Auction System's Phoenix Auction House located at 951 W. Watkins in Phoenix. All of the items listed in the auction may be previewed and inspected by interested bidders on Friday, October 8, 2010 from 10:00 a.m. to 2:00 p.m.
Items will also be available for preview and online bidding on Sunday, October 3, 2010, ending at midnight prior to auction day. Interested parties can visit Auction System's Auction Page to preview and sign up for online bidding.
About Auction Systems Auctioneers & Appraisers, Inc.
Auction Systems Auctioneers & Appraisers, Inc. is the Southwest's most active auction and appraisal company. Auction Systems features live and live simulcast auctions and appraisals of stolen and confiscated Police and personal product including cars, tools, electronics, jewelry, sporting, coins and surplus, as well as auctions of commercial and heavy equipment, real estate, antiques, guns, estate and business liquidation and bankruptcy.
Based in Phoenix, Arizona and an INC. 500 company, Auction Systems is one of the fastest growing privately held companies within the United States. Additionally, Auction Systems is an ICIC INC. 100 company and is ranked as the #1 fastest growing woman-owned business and the fifteenth fastest growing business overall within the inner cities of the United States. Auction Systems is featured in TLC's newest reality series, AUCTIONEER$.
Auction Systems Auctioneers & Appraisers, Inc. can be found on the web at http://auctionANDappraise.com.
# # #