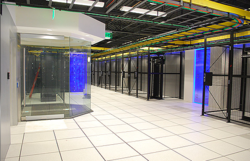 Enteracloud Offers Phoenix Colocation, San Diego Colocation and Los Angeles Colocation at special prices for Small Business
San Diego, California (PRWEB) July 28, 2011
Enteracloud Solutions, a leading provider of infrastructure and cloud computing solutions for small business announced today special pricing and packages for San Diego Colocation targeted specifically at small businesses.
San Diego Colocation facilities allow companies to share world-class data centers for housing computer equipment that supports critical applications and services. Colocation centers were once thought to make economic sense only for larger organizations with budgets sufficient to pay for rack space, the need for 24x7 operation, the mandate for tight physical security, and the skill to manage an off-site IT system. Today, virtualization technology has radically reduced the space required for multiple servers, almost everybody needs 24x7 network operation, no business can tolerate the theft or vandalism of hardware, and remote management and troubleshooting tools make it affordable for businesses of any size to outsource the administration and support of colocated systems.
Enteracloud's Microsoft and Cisco certified consultants can help your small business with all aspects of your colocation strategy including selecting and migrating to a colocation facility, designing system architecture, specifying hardware, on-site and on-line troubleshooting, setting up remote network management, and training your IT staff.
Why Use San Diego Collocation?
An in-house data center offering the dependability and security of a Tier 4 colocation facility would cost millions of dollars to build and operate, far beyond the reach of small and mid-size businesses. For companies located in seismically active areas, all this expense would still fall short of the network availability offered by major collocation sites. By spreading the cost of facilities and operation across many clients, collocation centers can offer a variety of high-end features:
•Long-term power backup fed by dedicated utility district substations
•Redundant Computer Room Air Conditioning (CRAC)
•Fine-grid fire suppression systems that minimizes impact on adjacent systems
•Non-stop access to multiple high-speed Internet connections with auto-failover
•Physical security with card-key and biomentric access controls and 24x7 security staff
•24x7 staffed operations center with certified engineers for monitoring and maintenance
A major advantage of colocation centers that is often overlooked is fast Internet connectivity. Most small businesses are located in offices where the only practical options for Internet access are copper-based DSL or, in some cases, cable. Both of these technologies are asymmetrical and offer slow return paths. This makes them ill suited for delivering data outward, which is a requirement for hosting a responsive commercial web site. Enteracloud's San Diego Colocation, Los Angeles Colocation and Phoenix Colocation centers provide customers with the option of full gigabit fiber connections to the Internet, offering more than 100 times the performance of copper or cable at a fraction of the cost per megabit of bandwidth. High speed Internet connectivity joins fault tolerance, data protection, security, and reliability as critical advantages that colocation centers have over locally-hosted small business networks.
Enteracloud's Colocation Support Services for Small Businesses
Whether planning to move mission-critical equipment to a colocation facility or need help managing and supporting existing colocated equipment, Enteracloud can provide customers with the expertise needed to benefit fully from world-class data centers while staying within their IT budgets.
About Enteracloud
Enteracloud Solutions is a leading provider of infrastructure and cloud services for small businesses. By offering a complete portfolio of solutions that includes San Diego Colocation, Los Angeles Colocation and Phoenix Colocation they are able to provide customers end to end solutions. Enteracloud Solutions is based in Carlsbad, California. For more information about Enteracloud Solutions, please visit their website at http://www.enteracloud.com, email support(at)enteracloud(dot)com or 858-433-8650.
###