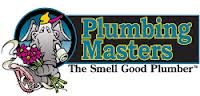 We are The Smell Good Plumbers because we show up on time and smell good, but also because we leave our customers with a feeling of complete customer satisfaction
Phoenix, Arizona (PRWEB) September 27, 2012
Phoenix drain cleaning and plumbing service from Plumbing Masters will be a little bit less expensive now that they are offering people a $50 Off coupon. The coupon can be applied to any job they perform but cannot be applied to diagnostic only appointments. "We are offering this new plumbing coupon to people in the greater Phoenix area because we want to make it easy for everybody to use our services. In addition to Phoenix drain cleaning the coupon can also be applied to sewer cleaning or any other service we offer," says Tony of Plumbing Masters in Phoenix, AZ. "This coupon expires on 03/31/2013."
Drain cleaning in Phoenix is typically needed when debris or objects clog the drain or sewer line. In extreme cases the drain line may have tree roots growing into it. In order to best determine what the blockage is, it is best to have an experienced Phoenix plumbing & drain company perform a video inspection of the sewer or drain pipe. Plumbing Masters offers a free Phoenix video drain pipe inspection to customers who hire them for drain cleaning or sewer cleaning. The video inspection allows the plumber and the homeowner to see firsthand what is causing the drain clog. In most cases a drain rooter or snake can be used to remove the clog. If the line has tough debris or tree roots growing inside the best solution may be hydro-jetting, which is a method of Phoenix sewer cleaning where high pressure water is used by our Phoenix plumbers to literally cut through the tree roots and other build up.
"We do the best we can to help people fast when they call us for Phoenix drain cleaning or any other plumbing service," says Tony. "We are The Smell Good Plumbers because we show up on time and smell good, but also because we leave our customers with a feeling of complete customer satisfaction."
To learn more about the Phoenix drain cleaning and plumbing coupons being offered by Plumbing Masters please visit their website, see their informative online videos or read their many positive online reviews from respected consumer review sites like Google and Angie's List.
Plumbing Masters
40 North Central Avenue
Phoenix, AZ 85004‎
(602) 331-0001
Google Places