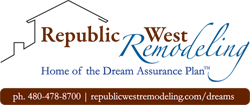 We're able to highlight, using images and customer interviews, how we transform a house into a dream home with our Phoenix home remodeling services.
Scottsdale, AZ (PRWEB) September 28, 2011
Phoenix home remodeling company, Republic West Remodeling, showcases a second Arizona home as part of its video home tour series. The highlighted project involved major renovation remodeling including kitchen, master bath, home office and pool room.
The ongoing Republic West Remodeling Home Tour is hosted by former Valley radio host and Republic West Remodeling customer, Darrell Ankarlo. The videos highlight recent remodeling projects and give viewers an inside look into home transformations.
"The home tour series provides fascinating ideas for remodeling your home," said Darrell Ankarlo, home tour series host. "In this second project video, we show before and after images of a 1980s home renovation and demonstrate some creative solutions to challenging design issues."
During this Phoenix home remodeling project, Republic West Remodeling solved many design issues for the homeowners:

The company updated the kitchen and made it more modern, attractive and functional.
Elegant wood valances with crown molding were added to enhance the kitchen design.
An existing room housing a pool table was transformed into a "Gentlemen's Room."
A bedroom was converted into an office for two with ample storage. The high ceiling in this room was lowered to provide an attic space for more storage.
The master bath remodel created a larger shower and incorporated attractive cabinetry.
A shower half-wall was constructed in a hall bathroom for extra privacy.
The homeowners appearing in this video attribute the project's success to working with an experienced team of professionals. They believe the team's ability to thoroughly understand the project made a difference in the outcome.
"The Home Tour gives us a great opportunity to showcase our work in an easy to follow video format," said Jim Weisman, owner of Republic West Remodeling, a leading Phoenix home remodeling company. "We're able to highlight, using images and customer interviews, how we transform a house into a dream home with our home remodeling services."
About Republic West Remodeling
Republic West Remodeling is a leading specialist of home improvement in Phoenix, offers the highest quality home remodeling services including kitchens, bathrooms, room additions and outdoor living spaces. Jim Weisman founded the company in 2011 after co-founding Republic West in 1995. The belief from the beginning was that ethical standards, honest communication, quality work performed by company employees and a low key education and design driven sales approach was what the customer yearned for.
Republic West Remodeling is an operationally driven company that utilizes various disciplines, processes and procedures to help insure that it can deliver what is promised and is careful to only promise what it can control.
Learn more about Republic West Remodeling's home remodeling services in Arizona and the Phoenix Metro area by visiting the company's website.
###