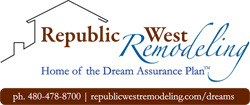 This property is being transformed into a beautiful, one-of-a-kind desert home.
Scottsdale, AZ (PRWEB) April 04, 2013
Phoenix home remodeling company, Republic West Remodeling, announced a major home renovation is underway for a North Scottsdale homeowner. The project involves adding over 1,000 square feet to an existing 4,000 square foot home, expanding the garage and laundry room, remodeling the kitchen, enlarging the living room and incorporating several new features.
The property is situated within an area of natural desert habitat. One of the challenges during construction is to ensure no wildlife is disturbed.
The project entails doubling the size of the living room. New features in this space include a fireplace, book shelves and tall windows to enhance the view of the natural landscape.
In addition, a three-car garage will be expanded to a five-car garage. Republic West will add space to the laundry room, as well as remodel the existing kitchen.
"We're excited to begin work on such a massive remodeling project," said Jim Weisman, owner of Republic West Remodeling, a leading Phoenix home remodeling company. "This property is being transformed into a beautiful, one-of-a-kind desert home."
The project is expected to take three months to complete.
Interested homeowners can request a complimentary design consultation by calling 480-428-2695 or visiting the company's website at http://www.republicwestremodeling.com/.
About Republic West Remodeling
Republic West Remodeling is a leading specialist of home improvement in Phoenix, offers the highest quality home remodeling services including kitchens, bathrooms, room additions and outdoor living spaces. Jim Weisman founded the company in 2011 after co-founding Republic West in 1995. The belief from the beginning was that ethical standards, honest communication, quality work performed by company employees and a low key education and design driven sales approach was what the customer yearned for.
Republic West Remodeling is an operationally driven company that utilizes various disciplines, processes and procedures to help insure that it can deliver what is promised and is careful to only promise what it can control.
Learn more about Republic West Remodeling's home remodeling services in Arizona and the Phoenix Metro area by visiting the company's website.
###