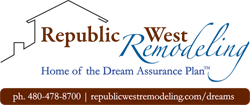 Our goal is to deliver a freshened-up dream home that will serve the homeowners well in the coming years.
(PRWEB) April 11, 2012
Phoenix home remodeling company, Republic West Remodeling, announced it has started an extensive remodel of a 22-year old Scottsdale home. The project is expected to take six to eight weeks to complete and has a budget between $175,000 and $180,000.
When the homeowners purchased the new home from the original builder, they were given very few enhancement options at the time. As the years passed, the home became less functional and more outdated. With a premium placed on entertaining and serving the homeowners' needs through retirement, the home required a major overhaul.
The bathrooms, kitchen and laundry room are being gutted and then customized with a completely new look and function. Bedrooms belonging to the children who recently moved out will be turned into offices and hobby rooms.
In addition, the popcorn ceilings will be removed throughout the house and replaced with new materials. Porcelain tile flooring, paint, lighting fixtures and Brazilian cherry hardwood stairs will also be installed in the home.
"Designing this project has been a great experience for both our team and the homeowners," said Jim Weisman, owner of Republic West Remodeling, a leading Phoenix home remodeling company. "We had great flexibility in customizing the home to meet current and future needs.
"For example, we focused on utilizing the home's space better, making it more open and providing better function," continued Weisman. "Our goal is to deliver a freshened-up dream home that will serve the homeowners well in the coming years."
For more information on Republic West Remodeling, visit http://www.republicwestremodeling.com.
About Republic West Remodeling
Republic West Remodeling is a leading specialist of home improvement in Phoenix, offers the highest quality home remodeling services including kitchens, bathrooms, room additions and outdoor living spaces. Jim Weisman founded the company in 2011 after co-founding Republic West in 1995. The belief from the beginning was that ethical standards, honest communication, quality work performed by company employees and a low key education and design driven sales approach was what the customer yearned for.
Republic West Remodeling is an operationally driven company that utilizes various disciplines, processes and procedures to help insure that it can deliver what is promised and is careful to only promise what it can control.
Learn more about Republic West Remodeling's home remodeling services in Arizona and the Phoenix Metro area by visiting the company's website.
###