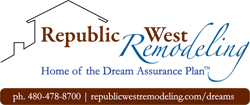 This project is especially rewarding for us because we were able to take the homeowner's vision and turn it into a reality.
Scottsdale, AZ (PRWEB) July 17, 2012
Phoenix home remodeling company, Republic West Remodeling, announced it is nearing completion on a major outdoor remodeling project. The project was scheduled to last four weeks.
The company's goal is to create a resort-style backyard for this Arizona homeowner. With an existing pool and lush landscaping, the project incorporates additional amenities such as entertainment areas. For example, the company is adding significant hardscape areas to accommodate large groups of people.
To further enhance entertaining, the project adds outdoor showers for bathers, a large, natural gas fireplace, an outdoor kitchen and sophisticated lighting. Three "flaming towers" of stacked stone will be topped with natural gas burning woks.
Since the homeowner's backyard is only slightly larger than normal, special care had to be taken during the design phase to ensure every planned amenity fit in the limited space.
"This project is especially rewarding for us because we were able to take the homeowner's vision and turn it into a reality," said Jim Weisman, owner of Republic West Remodeling, a leading Phoenix home remodeling company. "Together, we're creating an outdoor entertainment area that is truly spectacular.
"In addition, the new outdoor living space will enhance our client's lifestyle professionally as well as personally," continued Weisman. "Since the homeowner entertains clients regularly, the new backyard will be perfect for casual business meetings."
Creating outdoor living spaces in Arizona has become a popular trend for many homeowners. With limited indoor space, extending a home to the outdoors not only creates more living area, but allows for enjoyable functions such as swimming, sports, meditating, playing, dining and entertaining.
For more information on Republic West Remodeling, visit http://www.republicwestremodeling.com.
About Republic West Remodeling
Republic West Remodeling is a leading specialist of home improvement in Phoenix, offers the highest quality home remodeling services including kitchens, bathrooms, room additions and outdoor living spaces. Jim Weisman founded the company in 2011 after co-founding Republic West in 1995. The belief from the beginning was that ethical standards, honest communication, quality work performed by company employees and a low key education and design driven sales approach was what the customer yearned for.
Republic West Remodeling is an operationally driven company that utilizes various disciplines, processes and procedures to help insure that it can deliver what is promised and is careful to only promise what it can control.
Learn more about Republic West Remodeling's home remodeling services in Arizona and the Phoenix Metro area by visiting the company's website.
###