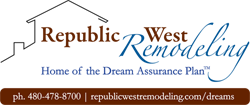 For those homeowners thinking about kitchen remodeling, now is the perfect time to save on quality cabinetry.
Scottsdale, AZ (PRWEB) January 18, 2012
Phoenix kitchen remodeling company, Republic West Remodeling, is offering a special promotion on kitchen cabinets between January 16 and February 26, 2012. As part of a kitchen remodeling project, customers will receive a 10 percent discount on cherry, maple, alder and rustic alder cabinetry. The promotion has no minimum requirements.
"To kick off the New Year, we're pleased to offer reduced pricing on our high quality, distinctive kitchen cabinets," said Jim Weisman, owner of Republic West Remodeling, a leading Phoenix home remodeling company. "For those homeowners thinking about kitchen remodeling, now is the perfect time to save on quality cabinetry."
Republic West Remodeling offers a highly trained and specialized kitchen remodeling crew with combined experience of more than 100 years. The company was ranked number 89 in the "Top 500 Remodelers" by Qualified Remodeler magazine. In addition, Republic West Remodeling has received numerous honors including Angie's List "Super Service" award, the Better Business Bureau "Business Ethics" award, the National Association of the Remodeling Industry's "Contractor of the Year" award, and bizAZ magazine's "Arizona's Coolest Companies and Business Leaders of the Year" award.
For its kitchen remodeling projects, the company uses a custom, proprietary software system to provide accurate and detailed pricing. Republic West Remodeling is the only Phoenix home remodeling company to offer cost certainty to its customers.
For more information on the kitchen cabinet promotion, contact Republic West Remodeling at (480) 428-2695.
About Republic West Remodeling
Republic West Remodeling is a leading specialist of home improvement in Phoenix, offers the highest quality home remodeling services including kitchens, bathrooms, room additions and outdoor living spaces. Jim Weisman founded the company in 2011 after co-founding Republic West in 1995. The belief from the beginning was that ethical standards, honest communication, quality work performed by company employees and a low key education and design driven sales approach was what the customer yearned for.
Republic West Remodeling is an operationally driven company that utilizes various disciplines, processes and procedures to help insure that it can deliver what is promised and is careful to only promise what it can control.
Learn more about Republic West Remodeling's home remodeling services in Arizona and the Phoenix Metro area by visiting the company's website.
###