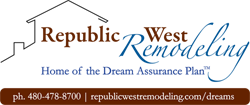 Balancing all aspects of the project, we were able to design a spectacular kitchen that addressed challenges with creative solutions.
Scottsdale, AZ (PRWEB) March 29, 2012
Phoenix kitchen remodeling company, Republic West Remodeling, announced it has started construction on a multifaceted kitchen remodeling project for a Phoenix custom home. The timeline for the project is one month with completion scheduled for April 20, 2012. The project budget is just under $100,000.
"Beginning the construction phase of this project is really exciting for us," said Jim Weisman, owner of Republic West Remodeling, a leading Phoenix home remodeling company. "Our in-house designer developed a special relationship with the homeowners to ensure we understood their requirements and desires completely.
"Balancing all aspects of the project, we were able to design a spectacular kitchen that addressed challenges with creative solutions," continued Weisman. "By successfully completing the design phase, we're now looking forward to delivering a finished project that exceeds our customer's expectations in every way."
The kitchen's design goals were to create very clean lines with a contemporary feel. At the same time, the new design needed to convey a certain character and welcoming atmosphere for guests. The homeowners want the new kitchen to still function as a congregation and entertaining area.
Because of the number of appliances included, the project presented certain spacing challenges. The design had to accommodate multiple dishwashers, refrigerators, freezers, professional gas range tops, double ovens and microwaves, all in stainless steel finishes.
For example, the kitchen incorporates a wine cooler with a special dishwasher just for wine glasses. In addition, a unique beverage refrigerator will be installed in the pantry with a finish to match the cabinetry. The design allows the refrigerator to blend with cabinets and not be noticed.
A butler's pantry remodel is also included in this project. This term most likely originated in Europe when butlers were commonly employed in mansions. Today, a butler's pantry is basically a large utility room attached to the kitchen that may or may not accommodate a butler.
For this kitchen remodeling project, the butler's pantry will feature a sink, dishwasher and a seven-foot refrigerator. It will include office space along with extensive cabinetry and countertops. Republic West Remodeling designed all elements to resemble furniture, including an ergonomically-correct desk.
Originally, the home was built with lower-end cherry cabinetry in the kitchen. However, the cabinets have become worn and discolored. Republic West Remodeling will install new cabinets in a dark brown finish. In addition, exotic countertops comprised of many different materials will be used. The kitchen will accommodate two islands topped with a black walnut finish.
The kitchen remodel required updated electrical work and lighting features. Decorative hanging light fixtures will be installed in the kitchen, along with recessed ceiling and under-cabinet lighting.
For more information on Republic West Remodeling, visit http://www.republicwestremodeling.com.
About Republic West Remodeling
Republic West Remodeling is a leading specialist of home improvement in Phoenix, offers the highest quality home remodeling services including kitchens, bathrooms, room additions and outdoor living spaces. Jim Weisman founded the company in 2011 after co-founding Republic West in 1995. The belief from the beginning was that ethical standards, honest communication, quality work performed by company employees and a low key education and design driven sales approach was what the customer yearned for.
Republic West Remodeling is an operationally driven company that utilizes various disciplines, processes and procedures to help insure that it can deliver what is promised and is careful to only promise what it can control.
Learn more about Republic West Remodeling's home remodeling services in Arizona and the Phoenix Metro area by visiting the company's website.
###