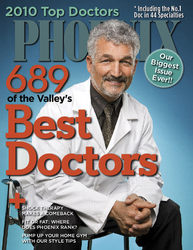 "We've been building the Phoenix magazine brand for more than four decades," Hiatt said. "Our strategy has always been to reinvest in our biggest assets: our print publication and our paid and audited circulation."
Phoenix, AZ (PRWEB) March 8, 2010
In an uncertain economic climate where newspapers and magazines are struggling, Phoenix magazine is setting an all-time record with its April issue. Phoenix magazine's 16th-annual Best Doctors issue, featuring the Valley's top doctors, will be the largest issue published in the magazine's 44-year history, both in terms of page count and magazine advertising sales revenue.
Phoenix magazine's Top Doctors issue, published annually in April, salutes outstanding physicians in a variety of specialties. The 2010 edition will feature 340 pages containing 689 of the Valley's best doctors, as chosen by their peers.
Phoenix magazine's publisher, Michael Hiatt, attributes this record achievement to the magazine's dedication to its readers and advertisers. "We've been building the Phoenix magazine brand for more than four decades," Hiatt said. "Our strategy has always been to reinvest in our biggest assets: our print publication and our paid and audited circulation."
"Also contributing to our success is our advertisers' increased level of confidence in the Phoenix economy," Hiatt continued. "There's velocity here that didn't exist a year ago. Because of our product, we're winning business. Consumers value the information we publish, and the local advertising community feels that. We're their partner."
Historically, Phoenix magazine's Best Doctors issue has been one of the publication's most popular issues with magazine subscribers and at newsstands. While Phoenix averages approximately 10,000 single-copy sales per issue, the Top Doctors issue tops an average of 26,000 newsstand sales.
The 2010 Best Doctors issue will be on sale at newsstands March 25, 2010.
To learn more about Phoenix magazine, visit http://www.phoenixmag.com.
About Phoenix magazine:
Phoenix magazine, one of the nation's leading city and regional magazines, provides readers with information about all aspects of life in the Valley of the Sun, including the best places to live, Arizona history, Best of the Valley, Best Doctors, Phoenix dining, and much more. Phoenix magazine is part of Cities West Publishing Inc., a Phoenix-based company that also publishes Phoenix Home & Garden magazine. Phoenix magazine is an ABC-audited publication with an average paid circulation of approximately 70,000.
###