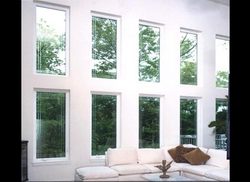 Energy efficient windows are a great value bargain because they increase the value of a home, reduce energy costs and they ultimately pay for themselves
Scottsdale, AZ (Vocus) June 24, 2010
Phoenix windows supplier, Republic West, is now matching the 2010 Federal Tax Credit on their windows with PROtec glass up to $1,500.
Energy efficient windows and doors offer an opportunity to increase the value of a home and enhance its beauty, while reducing expenses. Now is a great time to not only keep energy costs down, but also take advantage of the Federal Tax Credit and matching funds from Republic West.
"Energy efficient windows are a great value bargain because they increase the value of a home, reduce energy costs and they ultimately pay for themselves," said Linda Zimmerman, co-owner of Republic West. "With the Federal Tax Credit and Republic West's matching funding there has never been a better time to take advantage and purchase energy efficient windows."
Republic West's new or replacement window offer is valid on all PROtec vinyl and fiberglass window products and is valid through June 30, 2010.
Republic West makes it easy with windows that are maintenance free, easy to operate and guaranteed for as long as you own your home. They will help you design your home so that you are not locked into just replacing windows with an identical style. You can enlarge openings, enclose openings and design your home to change the "feel" of a space by adding greater views, more room for decorations on walls and better arrangement of furniture. Republic West is the only Phoenix windows supplier that offers 4 different glass systems - one that is right for every application in every home.
Learn more about Republic West's Phoenix window promotion by visiting their website.
About Republic West, Inc.
Republic West, Inc. is a leading home improvement company specializing in complete home remodeling including kitchens, bathrooms, interior remodeling, room additions, energy efficient window and door replacement, cabinet re-facing and more. Headquartered in Scottsdale, Arizona and founded by Linda Zimmerman and Jim Weisman in 1995, Republic West is an operationally driven company that utilizes various disciplines, processes and procedures to help insure that it can deliver what is promised and is careful to only promise what it can control.
A revolutionary company, Republic West hires, trains, and staffs best-of-class operational management, senior and apprentice foreman, customer service personnel, division administrators, and design and sales staff, thereby ensuring that for every project, service does not become a byword. T.O.P Assurance (Thorough Operational Process) is an integrated 3-phase, track-able process designed to create synergy before, during and after your home improvement project.
Republic West can be found on the web at http://www.RepublicWest.com.
###