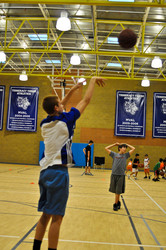 Phoenix, AZ (Vocus) March 8, 2010
Spring is in the air and basketballs are bouncing in Arizona's youth basketball community. Jump Athletic, a leading youth basketball training program for boys and girls in metro Phoenix, is holding registrations for its basketball training academy and basketball club team tryouts for Spring youth competitive and recreational basketball leagues. Tryouts for Jump Athletic youth basketball teams that play in competitive and recreational spring leagues around the Phoenix/Scottsdale area will be held the week of March 8th at the Jump Athletic location at Paradise Valley Preparatory School 11875 North 24th Street, Phoenix, Ariz.
Jump Athletic offers a free Open House basketball training session to those interested in registering for membership in our weekly youth basketball training academy and club basketball team program, designed for girls and boys ages 7-16.
Young hoopsters around the Valley turn to Jump Athletic for the best and brightest in trainers and coaches who care about helping kids improve their basketball fundamentals and playing ability. Training group sizes are kept small for that special attention between player and trainer—Jump Athletic's low player-to-trainer ratio is what makes the academy so unique. It's why parents and their kids turn to Jump Athletic as the top place for basketball training and skill building.
Jump Athletic Club Basketball Teams
o Practice Days are Tues through Thurs., for one hour before or after training academy.
o Practice times depend on age groups
o Club teams are for boys and girls ages from 7-16
o Games are held at various locations in the Phoenix and Scottsdale area
Jump Athletic Youth Basketball Training Academy
o Youth basketball training academy is weekly Tues. and Thurs. nights from 6:00-7:00pm
o Our trainer-to-player ratio is the best in the industry
o Group sizes are kept small for that special attention between player and trainer
o Fundamental drills are the main focus and repetition is the key to improvement
o Take your game to the next level by working with the top trainers in the state
Jump Athletic is quickly becoming one of the top breeding grounds in Arizona for youth basketball. Serving boys and girls ages 7-16 through its weekly basketball training academy, summer basketball camps, and strength, skill-building clinics, players work with experienced trainers on drills focusing on shooting, defense, ball handling, footwork and conditioning, rebounding and much more. Centrally located, training is housed out of Paradise Valley Preparatory School located at 11875 North 24th Street, Phoenix, Ariz.
About Jump Athletic Through its youth basketball training academy, club basketball teams, sports camps, and clinics, Jump Athletic helps kids improve skills and ability in basketball, learn teamwork and grow confidence both on and off the court. Launched by basketball coach and magazine publisher Brian Sacks, Jump Athletic provides parents and their kids the ideal environment for skill- and team-building. Jump Athletic is centrally located in the Phoenix/Scottsdale area and offers the top trainers and unrivaled experience for both players and parents in youth basketball in Arizona. For more visit http://www.jumpathletic.com.
Jump Athletic Resources
Twitter: @JumpAthletic
Facebook: Jump Athletic
# # #