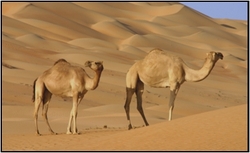 Spoke funds are a transparent, customer-focused way to deliver investment management services. We think they're superior to mutual funds in every way.
Phoenix, AZ (PRWEB) September 20, 2010
Foothills Financial Planning has introduced a new option for savvy investors, called the Camelback Fund. The Camelback Fund is a new breed of fund called a spoke fund - a cross between a mutual fund and a traditional separately managed account. The spoke fund combines the best qualities of these vehicles, leaving the high fees and other negatives behind.
A spoke fund is a collection of separate investment accounts, or spokes, that are linked to and invested in the same way as a primary central account, or hub. The hub account is managed by the portfolio manager, who maintains a significant percentage of his or her net worth in the spoke fund. Unlike mutual funds, spoke funds feature accounts that are independent from other investors. This provides tax flexibility, voting rights and the ability to exclude specific investments on moral or ethical grounds. For more information about spoke funds, please visit http://www.spokefunds.com/.
The Camelback Fund is so named for two reasons, the first for Camelback Mountain, a major landmark in Phoenix, that reinforces the fact that investment decisions are made far from Wall Street. More importantly, the fund looks for companies that behave like camels – fortified to the extent that they can live off of their stored resources, or continue paying dividends – even when times are lean.
"Dividend paying stocks are typically less volatile than non-dividend paying stocks," said Kevin O'Reilly, manager of the Camelback Fund and CEO of Foothills Financial Planning, Inc.. "They tend not to decline as much as other stocks in a down market. Also, multiple studies have shown that companies paying dividends have outperformed the broader market over long periods. While there is never a guarantee that such performance will be replicated, we think the reasons behind that discrepancy still hold true."
The Camelback Fund targets firms that have demonstrated a substantial history of paying – and increasing – dividends. In all cases, investment candidates must have fortified balance sheets that ensure a high likelihood that they can continue to pay dividends, and must be strong companies that trade for significantly less than their intrinsic value.
Unlike a mutual fund, which has sales and distribution fees, management fees, trading fees and redemption fees, the Camelback Fund has only a flat management fee. Investors are rarely aware of all of the fees charged by mutual funds. The spoke fund model promotes transparency, so an investor knows how much of his or her investment will go toward fees right from the start.
For more information, please call Foothills Financial Planning at 480.445.9072, or visit http://www.foothillsplanning.com.
ABOUT FOOTHILLS FINANCIAL PLANNING, INC.
Foothills Financial Planning, Inc. is a fee-only, licensed Investment Advisory firm based in the Ahwatukee Foothills section of Phoenix, Arizona. As a fiduciary, Foothills Financial Planning takes seriously its commitment to always act in the best interests of its customers.
Kevin Patrick O'Reilly, principal of Foothills Financial Planning, has been quoted on a variety of financial planning and investment topics in various media sources, including The Arizona Republic, Ahwatukee Foothills News, Phoenix Business Journal, MarketWatch, and Good Housekeeping Magazine. He was a contributing author to the book Investing in an Uncertain Economy For Dummies. O'Reilly has a BS in Finance from Indiana University and an MBA from Arizona State University. He is a Chartered Retirement Planning Counselor, and holds a financial planning certificate from Boston University.
# # #