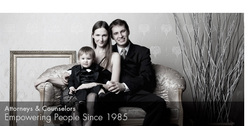 Contrary to what many people believe about divorce lawyers, at Gillespie, Shields & Durrant, we are especially concerned with the welfare of the families involved
Phoenix, AZ (Vocus) September 8, 2010
Gillespie and Associates has officially changed its name to Gillespie, Shields & Durrant, following the addition of Dan Durrant as a partner to the highly regarded Phoenix, Arizona divorce and family law firm.
Along with a new name, the family attorneys' office is also bringing a refreshing method of practicing family law to the Valley of the Sun. Utilizing an increased focus on collaborative law and mediation, Gillespie Shields & Durrant is looking to change the landscape of handling divorce in Arizona. These low confrontation and confidential methods of resolving a divorce are aimed at saving parties money, unwanted publicity, and frustration during the separation process.
"Contrary to what many people believe about divorce lawyers, at Gillespie, Shields & Durrant, we are especially concerned with the welfare of the families involved" stated DeeAn Gillespie. "We are always trying to make strides in areas of family and divorce law that will help preserve a healthy relationship between the parties, especially with children involved. When we are able to enter a room for a collaborative divorce and see the husband and wife working together, we know we have done our job."
The addition of Dan Durrant also allows the firm to have a strong presence in cases involving civil litigation. Durrant has been lead council on over 100 cases in the area of Professional Liability, Injury, Environmental Law and more. His Bar Admissions include:

Arizona
Nevada
Utah
U.S. District Court District of Arizona
U.S. District Court District of Nevada
U.S. District Court District of Utah
U.S. Court of Appeals 9th Circuit
U.S. Court of Federal Claims
U.S. Supreme Court
About the Company: Gillespie, Shields & Durrant has been empowering families and people since 1985. With a strong core of family law attorneys, they are positioned to become your family's law firm. The Phoenix divorce attorneys are knowledgeable in all facets of family law and have the tools at their disposal to end marriages in a civil, confidential and respectful fashion. The firm also handles high net worth divorce cases, paternity and child custody issues and prenuptial agreements.
For more information on the family law services offered by Gillespie, Shields & Durrant, please visit http://www.gillaw.com/Family-Law/Family-Law.html or call 602.635.1026 (Phoenix Office) 480.985.7552 (Mesa Office).
###