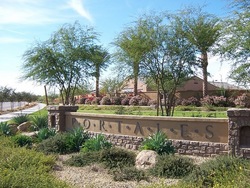 Phoenix, AZ (PRWEB) June 10, 2010
Ashton Woods Homes, a premiere builder of eco-friendly and energy-efficient new homes, today announced the achievement of their HERS 70 Score, indicating that their homes are 30% more efficient than standard new homes.
The HERS Index is an independent scoring system that rates the energy efficiency of homes. A standard new home achieves a HERS score of 100. The lower a home's HERS score, the more efficient it is compared to a standard new home. Ashton Woods has achieved a HERS score of 70 indicating that the homes are about 30% more efficient than standard new homes.
Headquartered in Atlanta Georgia, Ashton Woods builds high-performance new homes in growth communities in Atlanta, Austin, Dallas, Houston, Orlando, Phoenix, Raleigh and Tampa. Close to jobs, shopping and transportation corridors, Ashton Woods effectively balances healthy-house features with energy efficiency in their Power House Green homes – which can save homeowners as much as 45% per year on utility bills.
According to ENERGY STAR, a home energy rating involves an analysis of a home's construction plans and onsite inspections. Based on the home's plans, the Home Energy Rater conducts onsite computerized and manual inspections, which include a blower door test (to test the leakiness of the house) and a duct test (to test the leakiness of the ducts). Results of these tests, along with inputs derived from the plan review, are used to generate the HERS Index score for the home.
"ENERGY STAR requires a HERS Score of 85which indicates a 15% energy efficiency savings compared to standard new homes. Ashton Woods is going well beyond the ENERGY STAR standard at San Rafael with a HERS score of 70. Based on expected savings of 30%, they are achieving double the energy efficiency level of ENERGY STAR," explained Tom Hines, APS ENERGY STAR® Homes program manager.
About The HERS Index
The HERS Index is a scoring system established by the Residential Energy Services Network (RESNET) in which a home built to the specifications of the HERS Reference Home (based on the 2006 International Energy Conservation Code) scores a HERS Index of 100, while a net zero energy home scores a HERS Index of 0. The lower a home's HERS Index, the more energy efficient it is in comparison to the HERS Reference Home.
About Ashton Woods Homes
Ashton Woods Homes is a subsidiary of the Great Gulf Group- a fully-integrated collection of companies that spans the entire real estate spectrum in North America – from land acquisition and development to the design and construction of master planned communities. For more than 40 years, Ashton Woods has built a solid reputation for building comfortable, energy-efficient, high-performance homes and is ranked in Phoenix within the top-3 for Overall Quality in the 2009 J.D. Power Survey for New-Home Builder Customer Satisfaction Ranking and is honored with the most coveted local, regional and national awards. For more information, visit http://www.ashtonwoodshomes.com/phoenix.
# # #