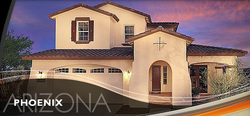 Scottsdale, AZ (PRWEB) September 14, 2010
Ashton Woods Homes, a premiere builder of eco-friendly and energy-efficient new homes, today announced that they have named Robert Gumber as its new Director of Construction Operations.
Headquartered in Atlanta Georgia, Ashton Woods builds high-performance new homes in growth communities in Atlanta, Austin, Dallas, Houston, Orlando, Phoenix, Raleigh and Tampa. Close to jobs, shopping and transportation corridors, Ashton Woods effectively balances healthy-house features with energy efficiency in their Power House Green homes – which can save homeowners as much as 45% per year on utility bills.
Mr. Gumber, who has been an Area Construction Manager in the Phoenix area, will be in charge of managing all construction operations in the Phoenix Division. Mr. Gumber will continue to spearhead the company's focus on quality construction, energy efficiency and cost control.
"We are excited to have Rob in this new role, where he can help us continue on our quest for excellence in customer satisfaction, quality and overall effectiveness in our operations. Each of these focus points are important to prepare us for growth as we continue to purchase great new communities across the Valley," said Scott Moore, Ashton Woods Phoenix Division President.
Before joining Ashton Woods, Mr. Gumber was an Area Construction Manager with a large public home builder. As an Area Construction Manager he reduced costs and cycle time while continuing to build quality homes and delivering excellent home buyer satisfaction.
Mr. Gumber has a BS Degree in Business Construction Management from Michigan State University. He and his wife Marisa live in Gilbert, Arizona.
About Ashton Woods Homes
Ashton Woods Homes is a subsidiary of the Great Gulf Group- a fully-integrated collection of companies that spans the entire real estate spectrum in North America – from land acquisition and development to the design and construction of master planned communities. For more than 40 years, Ashton Woods has built a solid reputation for building comfortable, energy-efficient, high-performance homes and is ranked in Phoenix within the top-3 for Overall Quality in the 2009 J.D. Power Survey for New-Home Builder Customer Satisfaction Ranking and is honored with the most coveted local, regional and national awards. For more information, visit http://www.ashtonwoodshomes.com/phoenix
###