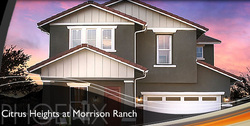 The homes in Morrison Ranch are about 20% more efficient than homes built to code - saving homebuyers thousands of dollars in just the first few years
Phoenix AZ (PRWEB) September 30, 2009
Ashton Woods Homes, a premiere builder of eco-friendly and energy-efficient new homes, today announced that their Morrison Ranch Community new homes exceeds SRP PowerWise standards as compared to other Valley typical homes.
Headquartered in Atlanta Georgia, Ashton Woods builds high-performance homes in growth communities in Phoenix, Atlanta, Dallas, Houston, Orlando and Tampa. Here in the Phoenix area, Ashton Woods' Morrison Ranch community is designed to create a sense of community among residents and preserve the area's rural ranch character.
The new eco-friendly one and two-story homes boast 2 and 3 bedroom, 2, 2.5 and 3 bath plans, priced starting in the $169's and ranging in size from 1,308 square foot homes up to 2, 368 square foot homes.
"There are over 40 production builders currently on the program ranging from single community builders to large production builders with communities across the valley," explained Rebecca Smout, C.E.M., Key Account Manager @ SRP PowerWise Homes Program. "The homes in Morrison Ranch are about 20% more efficient than homes built to code - saving homebuyers thousands of dollars in just the first few years," added Ms. Smout.
To meet the requirements set by SRP for energy-efficiency and to qualify for the PowerWise Homes program, all of Ashton Woods Homes' plans and features at Morrison Ranch were verified by an SRP Certified Home Energy Rater and scored for energy-efficiency. Add to that the PowerHouse program and the PowerHouse Green program that are unique to Ashton Woods and the savings for new homeowners at Morrison Ranch are significant.
"There are many components to building a new home and building 'Green.' Most experts agree that energy efficiency is the among the most significant," instructed Ms. Smout. "These homes are going to be around for a very long time it is extremely important they are built to higher efficiency standards to conserve our natural resources and help reduce the future demand for power as the valley continues to grow," added Ms. Smout.
Ms. Smout also said that SRP encourages new home buyers to look for the SRP PowerWise Homes seal to ensure that their new home is energy-efficient; as compared to similar houses only built to code.
Learn more about Ashton Woods Homes at http://www.ashtonwoodshomes.com. Learn more about the SRP PowerWise Program at http://www.srpnet.com/energy/powerwise/default.aspx.
About Ashton Woods Homes
Ashton Woods Homes is a subsidiary of the Great Gulf Group- a fully-integrated collection of companies that spans the entire real estate spectrum in North America - from land acquisition and development to the design and construction of master planned communities. For more information, visit http://www.ashtonwoodshomes.com.
(480) 515-9955.
Contact Robert Nunes
Ashton Woods Homes
Phone: (480) 515-9955.
Email: rnunes(at)ashtonwoodshomes.com
###