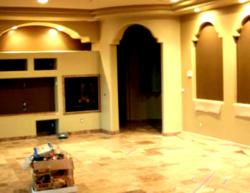 I am here to serve my clients, to do what they need to be done around their house, to make their house a home.
Tempe, AZ (PRWEB) April 23, 2011
David Cozad, President of Statewide Professional Painting, says he got his remodeling license to support and facilitate his clients' needs. The company offers full service painting, interior and exterior, for residential and commercial projects, but some clients wanted remodeling work done.
"My clients would say, we'd like to have one company like yourself who shows up on time every time and does exactly what you say you're going to do," David explains. "We wish you could do a whole bunch more because we'd like to do a lot more work, but with just one company we could trust."
For David, who says he eats, sleeps and lives for his business, this was enough motivation to get his remodeling license. He has 30 years experience and learned the painting trade from his grandfather. The business suits his personality – he loves people and enjoys the artistic part of his job helping clients decorate their homes.
Statewide Professional Painting is licensed, insured and bonded with a high rating from the Better Business Bureau and BuildZoom. The business has an impeccable reputation as a reliable, personable, hardworking company that does professional work at a reasonable price. Their feedback and testimonials have all been extremely positive.
"Many clients tell us it's like having family in their homes and they don't have to worry once they meet the crew," David says. "It's very important to me we never get a bad write-up. It would tear me up and I wouldn't get any sleep at night."
Perhaps that's not too surprising coming from a man who is actively involved in his church, loves spending time with his dogs, and enjoys watching the Disney channel.
"I am here to serve my clients, to do what they need to be done around their house, to make their house a home," he points out. "We treat their home as if it were ours."
About Statewide Professional Painting
Statewide Professional Painting is an Arizona based residential and commercial painting and remodeling company with 30 years experience. Their attention to detail and customer-oriented service has earned them an impeccable reputation as one of the top painting contractors in Arizona. To learn more about Statewide Professional Painting, visit them on the web at http://www.statewidepaint.com or via their profile on BuildZoom. Their painting contractor license number is 261458 and their remodeling license number is 272320.
###