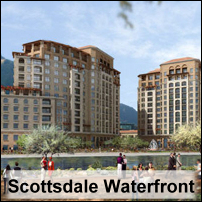 WeKnowUrban.com has given my clients and me a great competitive edge.
Phoenix, AZ (PRWEB) August 15, 2006
Real estate marketing company WeKnowUrban has announced the release of its website, featuring Phoenix, Tempe and Scottsdale High Rise and Loft Condo Specialist, Will Daly, at WeKnowUrban.com.
The site offers hundreds of pages of detailed information and prices of high rises, lofts, and other urban style condos in Phoenix, Scottsdale, Tempe and surrounding cities. New condo developments like Scottsdale Waterfront High Rise, Hayden Ferry Lakeside High Rise Condos, Safari Drive Lofts, and The W Hotel Residential Lofts are generating a lot of excitement and the site is a great source of information on these and other projects.
Daly's very first real estate transaction was the sale of a two bedroom high rise condo on the tenth floor of the prestigious Crystal Point condo building almost ten years ago. Sales of high rise and loft condos were hard to put together back then as vertical living was in it's infancy in this historically flat and sprawling city. Fortunately for him, hard work, the success of his website, and being in the right place at the right time has paid off. For the last three years Daly has sold more resale high rise and loft condos than any other agent in the city.
According to Daly, "the website has proven to be extraordinarily popular with not only buyers and sellers of high rise and loft condos, but also investors, design and architecture students, city officials, real estate agents, journalists, local television producers, financiers, developers, and others."
"Developers and prospective developers call me every week either looking for free information or hoping to meet with me to discuss our marketing and selling ideas for their new projects," Daly says.
Just two weeks ago representatives for one of the largest national home builders visited Daly to run two of their new urban product ideas past him. "It's a brand new product line for them and a very different buyer demographic than what they know. They needed help understanding the wants and needs of the audience and the price range that the market will support."
Daly says he also gets calls from men, women, and finance companies who are considering investing in the construction of new projects. "A lot of these financiers live out of state, don't know details on our high rise and loft market, want to invest but need to know more." They call Daly after visiting WeKnowUrban.com looking for as much information they can get.
Lately, visitors to the site seem most interested in what's going on in downtown Phoenix and along the coming light rail route. "Web pages about Portland Place Lofts and Brownstones, Century Plaza High Rise Condos, the row houses of Portland 38, 44 Monroe High Rise, and Summit at Copper Square High Rise Condos are getting a lot of action on the site," Daly says. "Based on the phone calls and e-mails we get most of these visitors are not "in the industry" but rather folks interested in buying."
"WeKnowUrban.com has given my clients and me a great competitive edge." Look for the site to continue to increase market share and to remain the source of information on what's cool in the Phoenix loft and high rise condo market. Register on line at WeKnowUrban.com/Services.html for more information.
# # #