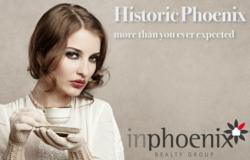 House hunters looking into these historic homes will find at least twenty archtectural styles in Central Phoenix...
Phoenix, AZ (PRWEB) July 28, 2011
inPhoenix Realty Group makes finding a home in a historic Phoenix neighborhood a little easier with their new website feature that highlights historical properties for sale. The National register of Historic Places lists over thirty five neighborhoods as having the most distinguishing homes in the city. These areas are highly sought after when it comes to their characteristic charm and the distinctive appeal that each of these homes offer.
inPhoenix's new historic district website feature includes an interactive map that allow interested home buyers to click on a desired neighborhood to see whats listed. Home buyers can scroll through a robust list of Historic Districts to see available listings in each district, like the single family homes listed in the quirky Coronado District. There is also a section titled 'Explore Phoenix History' that gives potential home buyers insight into the development of different regions in Phoenix.
For a home to be listed as a historic home, there are several factors that can come into play. To be considered a historic home, the home has to be at least fifty years old. The home must also have a unique architecture or be of some significance to the community. For example, as a famous person may have been born there, or another famous historical event may have occurred.
These historic neighborhoods still have a friendly community feeling, where neighbors are often seen sitting on their porches and get to know each other personally, often hosting open public events for the neighborhood right in their own yards. Phoenix's historic neighborhoods are found mostly in Central Phoenix stretching along the Central Corridor from Downtown Phoenix to Uptown Phoenix. Each home is unique with its own character, culture, architecture and street layout.
House hunters looking into these historic homes will find at least twenty architectural styles present in the various neighborhoods: Monterey Revival, Spanish Colonial, Cotswold and Normal Revival, American Colonial, English Cottage and Transitional Ranch as well as many others. However, the main architectural styles in Phoenix can be grouped as follows:
• Victorian Era 1885-1905
• Bungalow Era 1905-1925
• Period Revival Era 1915-1940
• Ranch era 1935-1960
For more information about the Historical Homes in Phoenix and how inPhoenix can help find the one for you, visit http://www.inphoenix.com/historic-central-phoenix-neighborhoods-homes-for-sale.php
About inPhoenix Realty Group:
inPhoenix Realty Group is a group of realtors with HomeSmart Elite who provide real estate services to buyers and sellers in the Greater Phoenix area. inPhoenix guides clients decisions using comprehensive market intelligence along with the core knowledge of local market conditions, serving customers best interests before, during and after the sale. inPhoenix invests heavily in providing online visitors as much information as possible and the ability to search for properties using unique methods rarely found on competitors website.
Contact:
Artur Ciesielski
602.492.8004
artur(at)inPhoenix(dot)com
http://www.inphoenix.com
###