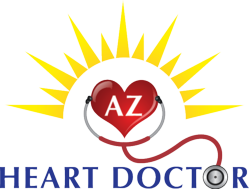 Dr. Batres is a Double Board Certified cardiologist, accepts most insurances, and has locations in Mesa and Tempe
Phoenix, AZ (PRWEB) June 10, 2013
AZ Heart Doctor, the Valley's new premier cardiology practice, is now open at two Phoenix area locations. AZ Heart offers comprehensive noninterventional cardiology services to patients throughout the Phoenix and East Valley areas with a Double Board Certified cardiologist. Most insurance is accepted. For more information and scheduling call (480) 300-4646.
The Medical Director at AZ Heart Doctor is Dr. Yasir Batres, a Board-Certified Phoenix cardiologist who provides compassionate, individualized care to his patients. Dr. Batres completed his medical training at UCSD followed by a residency at Indiana University. He then went on to a cardiology fellowship at UC Davis prior to starting practice in the Phoenix metropolitan area.
Services at AZ Heart include general cardiology check ups, ultrasound services, Coumadin checks, stress testing, lower extremity ultrasounds, pacemaker monitoring, preoperative assessments and monitoring for arrhythmias. Dr. Batres stresses patient education during visits, as he strongly feels it helps patients become more actively involved in their treatment.
There are two convenient locations for AZ Heart Doctor. One is in Mesa on Lindsay Road, and the other is in Tempe on E. Southern Ave. Most insurance is accepted at the clinics, and the staff along with Dr. Batres is fluently bilingual.
Along with opening the new locations, AZ Heart Doctor has a brand new website that contains an online library of heart conditions and services along with an active blog. At AZHeartDoctor.com, patients can read about their conditions, treatments, and complete their intake paperwork prior to visiting. In addition, referring offices can find referral paperwork as well. The website is in both English and Spanish.
AZ Heart Doctor understands how important cardiovascular health is, and is dedicated to providing top-notch medical care to optimize patients' healthy hearts. The practice is currently scheduling for new patients at both locations. For more information and scheduling with a cardiologist Mesa AZ trusts, call 480-300-4646.