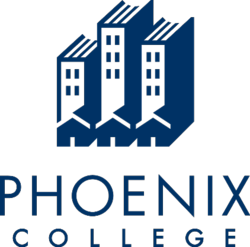 Education is the most valuable investment, holding the power to change a student's life while strengthening our workforce and our communities. -- Phoenix College President Dr. Anna Solley
Phoenix, AZ (PRWEB) November 10, 2011
Lumina Foundation has awarded a $600,000, four-year grant to a partnership involving Phoenix College, City of Phoenix and Phoenix Union High School District to strengthen educational attainment for Latino students in the metro Phoenix area.
"Degree Phoenix" will support and enhance pathways from high school to college and college to workforce as part of Lumina's commitment to improve college level educational attainment among all Americans. Phoenix College, flagship member of Maricopa County Community College District (MCCCD), will serve as the lead partner for the program.
"These types of partnerships are vitally important to helping the United States remain economically competitive," said Maricopa Community Colleges Chancellor Rufus Glasper. "Reaching world-class levels of college attainment will require us to find ways to assure that dramatically more students have the opportunity to succeed in higher education."
Phoenix College President Dr. Anna Solley said the grant will put the college in a strong position to help its students reach their educational goals.
"Education is the most valuable investment, holding the power to change a student's life while strengthening our workforce and our communities," she said. "Phoenix College proudly serves as an Hispanic Serving Institution and 37% of our students are of Hispanic descent. We are passionately committed to working with our partners to increase the percentage of Latino students who achieve degree or certificate completion."
Specifically, the Phoenix grant will be used to:
*Provide students more academic options via Arizona's primary articulation pathway (Arizona General Education Curriculum and Maricopa to ASU Pathways Program);
*Create single point-of-contact resources to student and families;
*Target Workforce Investment Act (WIA) eligible youth interested in earning certificates and credentials while enrolled in GED programs;
*Employ the use of a common data system to better track education and career success.
The partnership will engage Latino youth at different points along the educational pipeline, with a goal of increasing number of students receiving postsecondary credentials by 20 percent over a six-year period.
"This partnership fits perfectly with our mission of preparing every student for success in college, career and life," said Dr. Kent Scribner, superintendent of the Phoenix Union High School District. "Half of Arizona's 1.3 million K-12 students are Latino, and they represent our city and our state's future. Eighty percent of Phoenix Union students are Latino, and we know that most of them aspire to attend college, but there are challenges that they must overcome. I am grateful that many outstanding community resources will be mobilized to assist in efforts to have more students, and hence, more Latinos, getting to and succeeding in higher education."
The City of Phoenix's participation will revolve around College Depot, a free full-service college planning program offered at the city's main library to youth interested in pursuing education, as a key entry point and expanding that model through community-based organizations. It will also align City WIA youth funding, and data collection and sharing among the partners.
"If we are serious about our future, then we cannot afford to waste the promise of any student, no matter who they are or what neighborhood they come from," said City of Phoenix Mayor Phil Gordon. "We took a giant step with College Depot, a one-stop shop to get students in the college door. This grant will help us make sure they leave with the education and degree they need – and that is a good thing for us all."
The grant is part of the Indianapolis-based Lumina Foundation's just announced launch of a $7.2 million collaborative partnership with12 partners in 10 states. The project is designed to strengthen ventures in key metropolitan areas that show promise in improving the postsecondary attainment of Latino students.
"The Latino success project is the culmination of nearly two years of planning and engagement with many foundations and national leaders in the Latino community, said Lumina President and CEO Jamie Merisotis. Through these partnerships, we aim to build bridges among leadership groups already working to improve Latino college student success."
At more than 50 million nationwide, Latinos represent the largest and fastest-growing population group in the country. By 2025, half of the nation's workers will be of Latino descent. At that time, 63 percent of all jobs in the United States will require some form of postsecondary education or training, according labor economists.
About Phoenix College – PC is a premier institution of higher education that has been serving the community since 1920. As the flagship college of the Maricopa Community Colleges – the largest community college system in America – Phoenix College offers programs for university transfer, career training, and personal development. The 23-acre campus includes state-of-the-art instructional classrooms, a modern library and computer lab, the Eric Fischl Art Gallery, and performing arts theater. Phoenix College students speak more than 50 languages and represent more than 100 countries, reflecting the diverse, multicultural central city that it serves.
About Lumina Foundation – Lumina Foundation is an Indianapolis-based private foundation committed to enrolling and graduating more students from college – especially 21st century students: low-income students, students of color, first-generation students and adult learners. Lumina's goal is to increase the percentage of Americans who hold high-quality degrees and credentials to 60 percent by 2025. Lumina pursues Goal 2025 in three ways: by identifying and supporting effective practice, through public policy advocacy, and by using our communications and convening power to build public will for change.
# # #