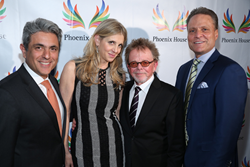 It was Phoenix House, not a cell, that elevated me out of my old life.
Beverly Hills, CA (PRWEB) May 05, 2014
Phoenix House California, the state's leading nonprofit substance abuse services organization, gathered Los Angeles entertainment and business leaders at the Beverly Hills Hotel on April 28 for its eleventh annual Triumph For Teens Awards gala. The event raised more than $350,000 to support Phoenix House's teen residential treatment centers, family therapy, and prevention programs, and featured special tributes to this year's honorees—the cast and producers of the CBS television series "Elementary," Oscar, Grammy, Golden Globe, and Hall of Fame Award-winning songwriter Paul Williams, and AEG, a leading global sports, entertainment and facilities organization.
"The presence of so many friends and gracious supporters who care deeply about our youth was indeed a humbling experience," said Pouria Abbassi, P.E., Senior Vice President & Regional Director of Phoenix House California. "The future of our state is unequivocally tied to the level of our care and compassion for those who need our help the most, especially our youth. This evening clearly demonstrated that there is much hope and promise for our great state."
The 2014 Phoenix Rising Award was presented to CBS' modern-day drama "Elementary" for being an outstanding television series of distinction that captures the struggles faced by those in Phoenix House's care. Writers Robert Hewitt Wolfe and Jeff Paul King received the award on behalf of the show's cast and producers. Actor Daniel Roebuck, who presented the award, noted that "few television series have incorporated the theme of addiction into its storyline and characters as effectively 'Elementary.'"
Paul Williams was honored with the 2014 Achievement Award for his personal accomplishments and advocacy for treatment, which he regards as his number one passion. Tracey Jackson, co-author of Williams' recent book, "Gratitude and Trust: Recovery is Not Just for Addicts," presented the award to Williams after recounting stories about his generosity of time to help others in need. Williams chronicled his work in recovery in the acclaimed documentary, "Paul Williams Still Alive," for which he wrote the title track. He considers his book the greatest opportunity of his lifetime to carry the message to the masses that "recovery works for all."
Giselle Fernandez, managing director of Creative World Talent Management, presented the 2014 Public Service Award to Martha Saucedo, executive vice president of External Affairs for AEG, in tribute to the company's solid commitment to enriching the lives of children and families in need. AEG's focus on public service initiatives, community outreach, and volunteerism has resulted in more than $65 million in direct financial and in-kind support of charitable, community and civic programs, with tens of millions more raised at affiliated venues and companies.
More than 250 attended this year's gala, which featured a reception, a dinner, a special musical performance by actress/singer Lauren Mayhew, and inspiring presentations about the life-changing impact of Phoenix House programs on teens in treatment. In one presentation, actor/director Sky Soleil shared his personal story leading up to his addiction as a teen and how Phoenix House changed his life, saying, "It was Phoenix House, not a cell, that elevated me out of my old life."
Phoenix House's annual Triumph for Teens Awards gala celebrates the victories of young people over substance abuse. It is an evening of recognition for adolescents who have learned the lessons of honesty, responsibility, and concern for others on their road to recovery. This year's Leadership Sponsor was Mary Hayley & Selim Zilkha. Other major sponsors included Timothy J. Noonan of Lockton Insurance Brokers, LLC and John W. Carson Foundation as Benefactors.
Previous honorees have included Los Angeles County Supervisor Zev Yaroslavsky; Los Angeles Police Department Chief William J. Bratton; Los Angeles Juvenile Court Judge Michael Nash; Dr. Charles Sophy, medical director of the Los Angeles County Department of Children and Family Services (DCFS); Sergeant Larry Martinez of the Los Angeles Police Department (LAPD); Phoenix House Founder Mitchell S. Rosenthal, M.D.; Timothy J. Noonan, president and CEO of Lockton Insurance Brokers, LLC; Lynn Pike, COO of CapitalOne; Leigh Steinberg, sports agent and lawyer, Steinberg Sports & Entertainment; David E.I. Pyott, chairman of the board, president & CEO, Allergan, Inc.; Grammy-nominated, 2007 BMI pop songwriter of the year Kara DioGuardi; television anchor, legal analyst, trial attorney, and best-selling author Rikki Klieman; actress and advocate Lorna Luft; film directors Catherine Hardwicke (Thirteen) and Betty Thomas (28 Days); as well as Paramount Pictures' "Freedom Writers" and seven outstanding television shows: Fox's "Bones," ABC's "Brothers and Sisters," "The Middle," and "George Lopez," Fox's "House," CBS' "Joan of Arcadia," the WB series "7th Heaven," and Lifetime Television's "The Division."
About Phoenix House
For more than 30 years, Phoenix House has been a beacon of hope for the most vulnerable men, women, and teens in Southern California, rebuilding lives, reuniting families, and creating stronger communities. Today, Phoenix House California serves more than 3,500 individuals and their families a year, and reaches more than 30,000 members of the community through outreach, volunteerism, and prevention education services.