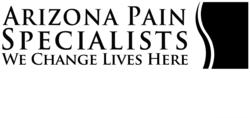 Arizona Pain Specialists sets the standard for pain management outcomes and avoiding surgery over 90% of the time.
Phoenix, AZ (PRWEB) July 06, 2012
The leading Arizona pain center - Arizona Pain Specialists, is now providing over 12 treatment options for those suffering from headaches, back or neck pain.
The comprehensive back pain treatments are offered by Award Winning, Board Certified pain management doctors in Phoenix along with a Phoenix chiropractor at several Phoenix area locations. Treatment is available same day with the chiropractors by calling (602) 507-6550.
Some of the various treatment options at Arizona include:

Pain medication management
Pain management injections
Physical Rehabilitation (Physiotherapy)
Spinal Decompression Therapy
TENS Units and Electrical Stimulation
Acupuncture and Massage
Radiofrequency Ablation
Spinal Cord Stimulation
Stem Cell Injection Study for Low Back Pain
Chiropractic Treatment
Behavioral Health and Bio-Feedback
Gua Sha
These treatments span both alternative and conventional medical treatments. The 2011 Institute of Medicine report identified over 30% of Americans suffer from chronic pain and recommended pain clinics to incorporate comprehensive options for the best outcomes. When it comes to headaches, sciatica and back pain, it may lead to lost time from work and depression. Comprehensive pain treatment can prevent the need for risky spine surgery.
Arizona Pain Specialists had already put in place the comprehensive treatment model years ago, and recently expanded the options to where there are over 12 now. They maintain over a 90% successful nonoperative rate with patients. One ground breaking option includes the recent FDA clinical trial for stem cell injections in the low back for degenerative disc disease. The clinics serve Scottsdale, Phoenix, Mesa, Glendale, Tempe, Chandler, Gilbert, Surprise, and more.
Arizona Pain also accepts quite a few health insurance plans including Aetna, Banner, AZ Foundation, United Health, Medicare, Cigna, Worker's Compensation, BCBS, Personal Injury Liens, and some AHCCCS plans such as Mercy Care and APIPA.
Said David Greene, CEO of the Arizona Pain Network, "The Phoenix pain management doctors at Arizona Pain are exceptionally well trained and offer an amazing amount of options. They are experts in over 20 pain management procedures alone! The Award Winning doctors and staff collaborate on patients to create individualized care, and the results speak for themselves. It's the model all modern pain management clinics should strive to be."
Those interested in treatment should call (602) 507-6550 for more information and to make appointments.