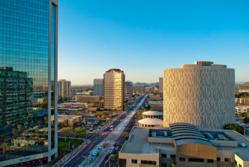 We would like you to be able to make the best decisions for you, ones that are based on good information.
Phoenix, Arizona (PRWEB) August 04, 2012
Interactive Phoenix housing market reports are available on the inPhoenix Realty Group website. Graphs are available based on city or zip code and include sales, active, median price and inventory data.
By selecting a specific city in the Greater Phoenix area, website clientele are presented with charts that track active properties for sale, sold properties, price per square foot and foreclosure data, including notice of trustee sales. Alternatively, visitors can receive the same up-to-date information by selecting a zip code. Hovering over each graph, visitors will see specific numbers for each given month over the course of the most recent year.
inPhoenix Realty reports, presented in real time, help guide a buyer's decision with the in-depth knowledge of local and current market conditions. The housing trends data is accompanied by Phoenix market report opinion pieces as well. Opinionated Phoenix market reports comment on REO, short sales and other time-relevant material.
All information is compiled from multiple sources including the Arizona Regional Multiple Listing Service (armls.com), Cromford Report and presented by inPhoenix Realty Group.
For more information, visit http://www.phoenixmarkettrends.com
About inPhoenix Realty Group:
inPhoenix Realty Group is a group of realtors with HomeSmart Elite who provide Phoenix real estate services for buyers and sellers in the Greater Phoenix area. inPhoenix guides clients decisions using comprehensive market intelligence along with a core knowledge of local market conditions, serving customers best interests before, during and after the sale. inPhoenix invests heavily in providing online visitors as much information as possible and the ability to search for Phoenix homes using unique methods rarely found on competitors websites.
Media Contact:
Artur Ciesielski
602-492-8004
service(at)inphoenix(dot)com