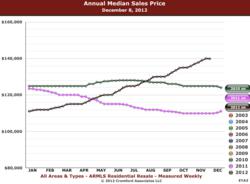 PhoenixMarketTrends.com provides visitors with the necessary information, data and analysis needed to make a more intelligent and informed decision.
Phoenix, Arizona (PRWEB) December 27, 2012
The Greater Phoenix real estate market is making a very strong come back. Partially because of the quick foreclosure process and in part because of the demand for housing from a growing population, but also from a developer and real estate friendly government. The updated graphing and data provide such answers as noted below.
Residential home prices rose 3.7% from November 2012 to December 2012 and prices are projected to rise from December 2012 to January 2013 by just under 1%.
The advance in pricing has been strong over the last few quarters, but it is accompanied by a rise in supply and a weakening in demand in the fourth quarter of 2012.
The Greater Phoenix median monthly price for residential properties is up 35% to $158,000 compared to $118,000 in 2011 for the same period.
The slower moving and more accurate annual median price is up 27% to $140,000 compared to $110,000 in 2011 for the same period.
Inventory is low at just over 3 months even though it has increased during the fall season. This is normal for this time of year. What is not normal is how low it is compared to years past.
Another strong indicator of demand and increasing prices is the 97.5% success rate of properties that get sold versus being taken of the market for reasons such as the failure to sell.
Real estate owned (REO) sales are down to 12.9% from 30% of all residential sales last year and 48% two years ago.
For a while the share of foreclosed homes was replaced by short sales, but even short sales are down to 22% from 29% last year and 19% two years ago, indicating that the distressed segment of the market is moving down as a share of the sales.
There are fears of a mini bubble forming. That may or may not be true, but the market is less fragile than it was before the collapse when debt was used extensively by buyers. Now the debt incurred to purchase properties is much lower: 35% of properties are purchased with cash compared to an average of 8% in the years preceding the crash.
Both buyers and sellers can view and track these new graphs and data at the extensive, regularly updated market statistics section of PhoenixMarketTrends.com. It is important for both those in the market to buy and to sell to keep abreast of the market trends overall and specifically in their area and housing type.
Phoenix Market Trends provides frequently updated graphs down to the zip code, property type and status making easy and convenient to gauge the activity and status of the market.
For more information and access to graph, data and analysis about the Phoenix real estate market and to view real estate for sale in Phoenix please visit PhoenixMarketTrends.com
About inPhoenix Realty Group of Home Smart Elite Group in Central Phoenix
inPhoenix Realty Group is a boutique real estate group helping clients buy and sell property in Greater Phoenix. "We guide your decisions using comprehensive market intelligence along with our core knowledge of local market conditions, serving your best interests before, during and after the sale."
Media Contact:
Contact:
Artur Ciesielski 602.492.8004