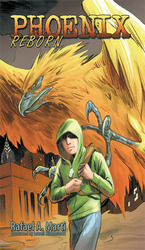 Vineland, NJ (Vocus) October 13, 2010
When the hunter becomes the hunted, where is there to hide?
In Rafael A. Marti's first full-length novel, Phoenix Reborn, readers follow main character Nathan Christopher Styles as he sets out on a dangerous journey that may cost him his life. A former U.S. Army Special Forces operative, Styles has now become a target. As he bravely confronts his alleged adversaries, he must also battle personal demons: paranoid schizophrenia. Could the entity he once fought for – the U. S. government – have turned on him?
With the help of his love interest and only ally, Vanessa Del Rio, Styles realizes he has little hope of reclaiming a normal life. His only focus now is to fight to stay alive.
Phoenix Reborn is the story of a man who once had it all but soon finds his life and world shattered. This fast-paced espionage thriller will leave readers questioning who, if not our own government, can really be trusted.
Reader Richard R. Blake writes, "Rafael Marti has a creative imagination and is a gifted storyteller. Six years of service in the U. S. Army and a career in medical and security assistance give Marti important insight into the theme of Phoenix Reborn. Rafael's personal background as a medicated paranoid-schizophrenic with an anxiety disorder adds an amazing depth of understanding and credibility to his writing. Phoenix Reborn is unforgettable, leaving the reader with a lasting feeling of hope and promise."
Phoenix Reborn
By Rafael A. Marti
ISBN: 9781452054537
Published by AuthorHouse
Available at Amazon.com and BarnesandNoble.com
About the author
Rafael A. Marti served in the United States Army for nearly six years. After his honorable discharge, he worked as a corrections officer and freelance private investigator. He has also worked as an operations coordinator for International SOS, Inc. and was the CEO of Casa PRAC, Inc., a not-for-profit social services organization in Cumberland County, N. J. He currently resides in Vineland, N. J. Phoenix Reborn is his first novel; for more information, visit http://www.rafaelamarti.com.
AuthorHouse is the premier book publisher for emerging, self-published authors. For more information, please visit http://www.authorhouse.com.
###