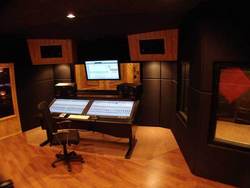 Phoenix, Arizona (PRWEB) October 2, 2007
After the opening of the first Phoenix WM Recording Studios location in 2006 demand has called for more. This new location has been designed from the ground up by President and Producer Wade Martin to meet his extraordinarily high standards.
Much of the WM Studios success is attributed to Wade Martin's pursuit for perfection. He's known as an industry leading music producer, engineer and entrepreneur and is credited for playing over twenty different instruments, 99% of the time he's playing all the instruments in the music he produces.
Wade founded the company in Europe in 1996 and is a subsidiary of JWM Records and held by JWM Enterprises. Wade's history speaks for itself, he's broken the US top 40 and has built numerous recording studios all over the world.
WM Studios new exclusive invitation only Phoenix location now features amongst many things, the largest touch screen recording console in the world. We believe this is the first console size touch screen interface ever created for a commercial recording studio. Wade collaborated with Doug Dyer from Sound Thinking who encouraged him to implement the idea for the new studio making interfacing with Pro Tools a dream come true. In addition, the live room and vocal booth features LCD screens on custom arms in lieu of traditional music stands making things more efficient for artists to edit their lyrics and much more. The windows between the recording studios control room and tracking rooms were built and designed by Acoustical Surfaces sporting a sound proof STC rating of 65. Entry into the studio is finger print scanning biometric accompanied with top of the line surveillance cameras to insure the highest level of security for artists and their work while inside the recording studio. The air condition system does more than just cool, it purifies and ionizes with a 6 inch thick filtering system and balances the humidity levels to insure clients get the best possible air quality. All outboard gear like the Solid State Logic X-Racks series featuring pres, dynamic modules straight out of their million dollar XL 9000 K series console, are the best money can buy, as the WM Studios clientele have come to expect over the years.
Wade makes large investments in sample libraries and other top producer tools, where other recording studios most often don't. A typical recording studio is expected to be able to record and have the equipment necessary to mix, while a producer brings along their hard drive of tricks and experience in order to add and cultivate the track along side the recording studio's engineer. Another benefit is, there is NO foot traffic due to the fact there is no B or C rooms so the artists get complete privacy.
###