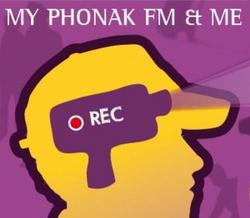 We're really excited to find out what our younger users come up with
Murten, Switzerland (PRWEB) February 8, 2010
Phonak, leading hearing systems manufacturer, has launched a new YouTube contest - named 'My Phonak FM & Me' - in order to track down the most inspiring young users of FM technology.
The contest gives Phonak FM system users up to the age of 19 the chance to win great video-related prizes and smartphones, simply by submitting a short video about how they use their Phonak FM systems.
The most inspiring clip will win its creator a USD 2,000 Sony camcorder, while ten runners-up will receive Flip camcorders.
Phonak is also offering an additional prize - Apple's popular iPhone 3G S smartphone - for the video that is viewed the most before the contest's closing date of August 31, 2010 (extended from original date of May 7).
"We know from our experience that FM technology really helps people get more from their daily lives, whether that means following conversations with friends more easily or connecting directly to Bluetooth and multimedia devices. As a result we're really excited to find out what our younger users come up with," says Alexander Zschokke, Group Vice President Marketing at Phonak.
To enter My Phonak FM & Me, Phonak users simply:
1. Make a video
Entrants create a short video about how they use their Phonak FM system.
2. Hit YouTube
They upload this video onto YouTube using the title 'My Phonak FM & Me'.
3. Email the link
FM users simply mail their video's web link to MyPhonakFM@phonak.com
My Phonak FM & Me runs until August 31, 2010 (extended from May 7, 2010). More information is available at http://www.MyPhonakFMandMe.com
UPDATED: My Phonak FM & Me Winners Announced! Watch the 2 best vids at http://www.MyPhonakFMandMe.com
About Phonak
Headquartered near Zurich, Switzerland, Phonak, a member of the Sonova Group, has developed, produced and globally distributed state-of-the-art hearing systems and wireless devices for more than 50 years. The combination of expertise in hearing technology, mastery in acoustics and strong cooperation with hearing care professionals allows Phonak to significantly improve people's hearing ability and speech understanding and therefore their quality of life.
Phonak offers a complete range of digital hearing instruments, along with complementary wireless communication systems. With a worldwide presence, Phonak drives innovation and sets new industry benchmarks regarding miniaturization and performance.
For more information, please visit http://www.phonak.com.
Phonak - Life is on
We are sensitive to the needs of everyone who depends on our knowledge, ideas and care. And by creatively challenging the limits of technology, we develop innovations that help people hear, understand and experience more of life's rich soundscapes. Interact freely. Communicate with confidence. Live without limit. Life is on.
###