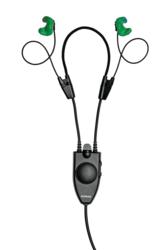 The arrival of primero DPC smashes the traditional 105 dB noise barrier for teams of radio users, allowing professionals to hold clear and understandable conversations in the very loudest noise without having to worry about the dangers of hearing loss
(PRWEB) February 10, 2010
Murten, Switzerland Phonak Communications has launched primero DPC, a new in-ear hearing protection headset that allows professional teams to communicate in louder noise than ever before.
primero DPC is Phonak's breakthrough boomless radio headset with dynamic hearing protection. Designed for use in extreme sound environments, the system raises the bar of safe radio communications by enabling conversation in noise of up to 115dB (approximately 10dB louder than most competitors). Further hearing protection is also guaranteed should even louder 'impulse' noises such as shots or crashes occur.
Designed with teams such as rapid intervention, SWAT, police, emergency and homeland security professionals in mind, primero DPC comprises two key technologies:

primero in-ear voice pick-up headset
Phonak's primero uses a tiny microphone (situated within the earJack) and an innovative signal processing algorithm to pick up the user's voice from inside the ear canal. This allows speech signals to be detected more effectively in noise than with equivalent external microphone products. It also ensures that primero is compatible with all helmets and masks.
DPC (dynamic hearing protection) technology
The earJack slots into Phonak's custom-molded nylon eShells or generic shells, which sit comfortably in the user's ears. DPC technology, via the earJacks, measures the surrounding noise and adapts primero DPC's attenuation (sound dampening) accordingly. In quiet situations this means the primero DPC user retains full ambient awareness; however when noise levels increase above safe levels (85 dB) the user's hearing is fully protected.
"The arrival of primero DPC smashes the traditional 105 dB noise barrier for teams of radio users, allowing professionals to hold clear and understandable conversations in the very loudest noise without having to worry about the dangers of hearing loss," says Evert Dijkstra, Managing Director of Phonak Communications.
primero DPC connects to all professional portable radios and is available with wired and wireless PTT units. For more information about primero DPC, please visit phonak-communications.com
About Phonak Communications AG
Phonak Communications AG, a subsidiary of the Sonova Group, has been specializing in the development, design, production and distribution worldwide of ultra miniaturized wireless systems since 1992. By combining its expertise in hearing technology with ongoing research at the highest level, Phonak Communications AG has succeeded in making substantial advances in the field of wireless communication systems from its development and production base in Switzerland.
Phonak – Life is on
We are sensitive to the needs of everyone who depends on our knowledge, ideas and care. And by creatively challenging the limits of technology, we develop innovations that help people hear, understand and experience more of life's rich soundscapes. Interact freely. Communicate with confidence. Live without limit. Life is on.
###