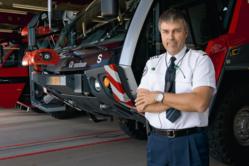 Initially the team didn't have professional protection, they only had access to disposable ear plugs
(PRWEB) February 24, 2010
Murten, Switzerland Geneva International Airport has employed Phonak's Serenity DP active hearing protection systems to safeguard the hearing of its aviation fire fighters and improve team communication.
The airport's fire fighting team, led by Commandant Amiguet, operates and trains close to taxiing jet airplanes each day, meaning staff experience the continual roar of jet engines. With these noise levels regularly reaching beyond the accepted legally safe level of 85 decibels (dB), this puts the fire fighters' hearing at real risk.
"Initially the team didn't have professional protection, they only had access to disposable ear plugs," explains Martial Hofer, Geneva airport's Security, Quality and Health at Work Coordinator. "However staff couldn't communicate with each other wearing these plugs – which is obviously crucial for such a close-working team – meaning they simply didn't wear them."
Asked to recommend a high-performing, flexible solution, Phonak recommended its Serenity DP (Dynamic Protection) hearing protection system. This intelligent product offers the fire fighters market-leading 'dynamic' (also-called active) hearing protection, measuring and reducing loud noises above 85 dB, and providing full ambient awareness when such loud noises dissipate.
"When we tried this system, the difference in performance was immediate," says Commandant Amiguet, "and what's extraordinary is that we didn't hear any of the annoying surrounding noises we used to hear. The protection reduced the background noise but improved our perception of sound signals and in turn improved the safety of the team."
"We considered Serenity DP to be the best hearing protection system for Commandant Amiguet's team because it provides exactly the protection his fire fighters require, whatever the noise level at the time," says Evert Dijkstra, Managing Director of Phonak Communications. "Because Serenity DP measures the surrounding noise and instantly adapts its attenuation, team members don't need to worry about adapting or taking out their protection; in fact if required they can comfortably wear it all day long."
A full 900-word case-study version of this story and additional high-res images are available on request from Matthew Wade at Phonak Communications AG.
To sign-up for e-mail press updates from Phonak, please visit http://www.phonak-communications.com/en/company/news/
Phonak Communications AG, a subsidiary of the Sonova Group, has been specializing in the development, design, production and distribution worldwide of ultra miniaturized wireless systems since 1992. By combining its expertise in hearing technology with ongoing research at the highest level, Phonak Communications AG has succeeded in making substantial advances in the field of wireless communication systems from its development and production base in Switzerland. For more information, please visit http://www.phonak-communications.com.
Phonak - Life is on
We are sensitive to the needs of everyone who depends on our knowledge, ideas and care. And by creatively challenging the limits of technology, we develop innovations that help people hear, understand and experience more of life's rich soundscapes.
Interact freely. Communicate with confidence. Live without limit. Life is on.
###