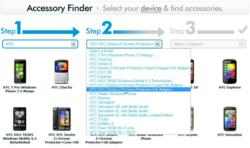 The Accessory Finder is designed to make it possible to find compatible extras for all the best-selling smartphone and tablet products in a matter of seconds.
Marlow, UK (PRWEB UK) 1 February 2012
Expansys.com, the online technology superstore has unveiled a new tool to let customers shop with confidence when searching for gadget accessories.
This past Christmas saw record sales of mobile technology, with smartphones, tablets and laptops filling stockings everywhere. But with a bewildering choice of accessories available with a quick search online, knowing precisely which case, screen protector or set of headphones will work with the latest gadgets can be a headache.
In a recent survey of its customers Expansys found that almost 80% of respondents found choosing a suitable case for a smartphone confusing. Some even said they "didn't know where to start" when it comes to finding compatible products.
In response Expansys has come up with a user-friendly solution. Always on the lookout for new ways to match customers with their perfect technology, they have created a new accessory finder service for their website that takes the worry out of the search.
Consisting of a simple navigation system, the Accessory Finder is designed to make it possible to find compatible extras for all the best-selling products in a matter of seconds. Visitors simply select the manufacturer of the product, then the particular model's name, and finally the type of accessory required.
In a few moments the Accessory Finder searches Expansys' catalogue of over 20,000 in stock accessories, then presents a tailored selection of the available fully matching options that can be bought with confidence of compatibility.
Users can match products from all the leading manufacturers, such as Apple, Samsung, BlackBerry, Canon, Nokia, HTC, Dell, Acer and more, and find the latest accessories from a wide selection of accessory brands. Best-selling names, such as Case-mate's Barely There and Zagg's invisibleSHIELD ranges, luxury brands including Piel Frama and Noreve's highest quality leather cases, and products by the tech manufacturers themselves are all present to be selected from, plus Expansys' own extensive line of great-value add-ons.
As a result the Accessory Finder can help with most accessory dilemmas, from customers needing the reassurance of keeping a new gadget safe with a body-protecting case or display-saving screen protector, to those who want extra kit to utilise all their tech's possibilities, such as a car mount or wireless keyboard.
Anthony Catterson, CEO of Expansys, commented of the Accessory Finder's launch; "We are delighted to offer the new Accessory Finder to our customers, and with the hugely positive reaction it has garnered so far."
"Our mission has always been helping our customers find tech to change their life. And the Accessory Finder, with it's intuitive 3-step system and huge selection of products, will hopefully help everyone find the perfect accessory for their gadget, whether they need a stylish and protective carry case, a car charger or a simple replacement cable."
Whether looking to compliment some new Christmas tech or replacing a vital work accessory that gave up the ghost, Expansys' Accessory Finder has been created to allow shoppers to buy with confidence and find that perfect accessory.
About Expansys.com:
Expansys is the only truly global online retailer for consumer mobile technology, and wants to become the preferred choice for customers worldwide. Believing that technology can change your life, Expansys' teams discover, review and sell the latest and hottest products, such as phones, tablets and laptops, from all the world's leading technology manufacturers across 60 international sites in 16 languages.
###