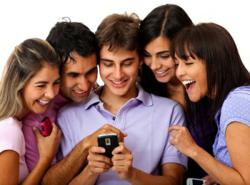 Fonochat serves as more than just a way for Latinos to speak to each other, it acts as a social networking tool that allows newly transplanted men and women from Spanish-speaking countries to connect with their local community
(PRWEB) April 23, 2012
Hispanics in the United States are a very social demographic, but few companies are taking full advantage of this proclivity to connect online. One organization looking to further facilitate Hispanic interaction is Teligence, parent company of Livelinks and Fonochat, a bi-lingual, Spanish and English chatline.
A recent consumer insights study shows that Hispanics use social media more than the general population. Facebook is used by 90 percent of Hispanics compared to 81 percent of the general population, and 57 percent of Hispanics access YouTube compared to 46 percent of the general population.
"Fonochat serves as more than just a way for Latinos to speak to each other, it acts as a social networking tool that allows newly transplanted men and women from Spanish-speaking countries to connect with their local community," says Teligence Associate VP, Chris Gordon. "It provides a support group to those who don't already have one in place where already established individuals can help recent immigrants feel like they're not alone. Since its inception in 2006, Fonochat has continued to grow even as the chat-line business as a whole remained relatively stagnant."
Aside from their Fonochat line, Teligence is fostering a community on Facebook and Twitter. Arlene Pimentel, Teligence brands Community Manager, states that "… we're building a place where any and all Hispanics can talk to the brands and each other about relationships, news and current affairs, or even William Levy! It's about establishing a conversation and creating a fun distraction, not traditional top-down marketing."
About Teligence
Teligence is the North American leader in voice-enabled social networking. Every month, millions of people across North America use Teligence chatlines to make millions of calls, connecting with real people for friendship, dating and fun. With a diverse product line that includes Interactive Male, Livelinks, Vibeline, RedHot Dateline, FonoChat and Lavender Line, Teligence offers a better way for everyone to make the connection that's right for them. For more information on Teligence or to arrange an interview, please contact Sean Ryan.