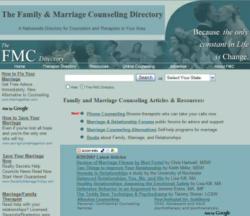 (PRWEB) May 13, 2010
New Orleans, LA New traffic trends from The Family & Marriage Counseling Directory (FMC Directory) indicate an increase in the number of people utilizing phone counseling services in recent months. According to Chris Hartwell, MSW, webmaster of the FMC Directory, traffic and usage to the phone counseling services they host has increased by over 30% since last year.
Phone counseling services put consumers in touch with a live, professionally licensed therapist immediately through the telephone. The process can be beneficial for couples and individuals in a variety of situations.
Oftentimes, starting professional counseling is a difficult decision for couples and individuals. Being able to pick up the phone for a "session" removes many of the barriers that sometimes inhibit people from seeing a therapist for face-to-face counseling. Two common examples of the barriers that keep people from seeing a counselor are transportation and scheduling, and phone counseling availability removes both. Chris says:
By giving people with busy schedules or lack of transportation the ability to speak to a live professional counselor, the counseling profession as a whole reaches more people. Although I don't have statistics or studies backing it up, I'd be willing to bet that consumers who have good experiences with phone counseling are more likely to move on to traditional face-to-face counseling for a richer experience over time.
Something unique to the phone counseling services that are popular today, is that consumers actually review the therapists they speak with. By clicking on a therapist's name, you can get more information on that person, including their rates, reviews, personal bios, and some even do email consultations.
The Family & Marriage Counseling Directory is one of the most popular therapist directories on the web, and it has been around since the Fall of 2003. They provide local therapist listings in the US and Canada, as well as online and phone counseling services, articles written by professional therapists, a free "help guide," links to books, and other self-help resources for couples. For more information, visit family-marriage-counseling.com.
###