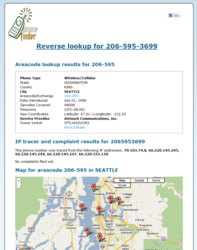 FreePhoneNumberFinder.com is dedicated to helping consumers by allowing round-the-clock access to millions of phone records and arms individuals, their families, and community businesses with the power of information.
Los Angeles, CA (PRWEB) May 31, 2011
Promises of big money for minimal effort or the opportunity to work from the comfort home can be tempting enough to grab the attention of even the savviest consumer. But don't be fooled, many fraudsters use this appealing notion to attract aspiring entrepreneurs and individuals searching for home-based work to cheat them out of money. These con artists peddle their bogus offers over the phone, through websites, street level signage, and online and offline classified ads. Use Reverse Phone Lookup services from FreePhoneNumberFinder.com to verify the authenticity of these offers.
The Federal Trade Commission recently announced they are stepping up efforts in their ongoing campaign against scammers who prey on consumers experiencing financial hardships due to the economic downturn with fraudulent offers of guaranteed work or illegitimate home-based business opportunities. Even as the FTC cracks down on these elaborate schemes, consumers must take precautions to avoid falling victim to the many other scams that still haven't been exposed and shut down.
Before pursuing any advertised work-at-home offer or business opportunity, adhere to the following tips and guidelines:

Steer clear of listings or ads that use terms like 'Get Rich Quick' or 'Guaranteed Money' also avoid advertisements that tout high incomes for part-time work.
Be cautious of postings that don't provide a detailed description of position's responsibilities. If it is a legitimate job opportunity there will be a description of the duties and qualification the employer will expect from a candidate.
Find out if there's a salary or if the position is purely commission based. Ask about pay periods and what method they use for payment. Investigate claims about potential or advertised earnings.
Study the offer, collateral materials and proposed contract carefully. Make sure to read the fine print.
Avoid any offer that requires individuals to send money for things like start-up kits', sales lead directories or employment listings. Upstanding businesses do not charge individuals seeking employment.
Carefully listen to the sales presentation or recruiter. A reputable company does not use high pressure sales tactics because they know their offer is good. If pressured to immediately accept an offer or else, leave the negotiation.
Look for consistency. Any verbal promises or commitments made by a representative of the company should be written into the contract. If they refuse to convert verbal promises into writing, it could be a red flag indicating potential problems.
Research the company's legitimacy. Get the contact information for the individual and the company he or she represents. Use the phone number you received the call from your caller ID or the contact number the representative gave you and enter it into Free Phone Number Finder. FreePhoneNumberFinder is dedicated to helping consumers by allowing round-the-clock access to millions of phone records and arms individuals, their families, and community businesses with the power of information. Look up any telephone number to identify whether it is an individual or a legitimate business and get access to details including the name of the person a number is registered to, street address and area code location. You could also explore Montana area codes directory to know more about the company. Using the information obtained from reverse phone lookup cross-reference it with the information provided by the company representative. If discrepancies are found ask for an explanation or refuse to engage with the company.
Think Twice. If the offer seems too good to be true, chances are it probably is. Don't let desperation cloud the decision making process. Read any "offers" carefully, and don't be rushed into making a decision.
About
FreePhoneNumberFinder.com provides information services that enable consumers to quickly and easily find services providing people and other information online by entering landline or cell phone numbers. Freephonenumberfinder.com aggregates, integrates, rates and delivers real-time people and phone search services from a variety of leading service providers to produce the best results in one location with consumer ratings eliminating the need for consumers to search across multiple websites.
Contact
If you have questions, please contact us at pr at freephonenumberfinder.com.
# Facebook Page
# Twitter Page
# # #