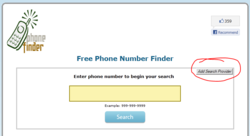 Using the "Add Search Provider" button, our visitors have the possibility to type the phone number they are searching directly into the browser, for immediate results.
Los Angeles, CA (PRWEB) April 19, 2011
FreePhoneNumberFinder.com is pleased to announce their new reverse phone lookup tool. Not only do our customers find out, in a matter of minutes, all the details about a certain phone number and the person calling, but they also have the opportunity to add a plugin directly to their Internet browser making the search a lot easier. People typing words like "Reverse Phone Lookup" on search engines, like Google or Bing, receive hundreds of results, and it's hard and time consuming to select the most reliable provider. With FreePhoneNumberFinder.com this problem is solved.
FreePhoneNumberFinder.com works as a complex directory, integrating and aggregating information from various databases and providing a quick, detailed answer for each phone number lookup. By using the "Add Search Provider" button, our visitors have the possibility to type the phone number they are searching directly into the browser, for immediate results. FreePhoneNumberFinder.com searches through multiple directories and, in a matter of seconds, offers relevant results from different sources. Here is our video tutorial on Reverse Phone Lookup - how to find the owner of a phone number.
FreePhoneNumberFinder.com offers relevant, free information on phone numbers, whether they are land-lines or cell phones. Details like the state, county and the city where the owner of the phone number lives are offered for free. Customers can also get very detailed reports on the number they are searching. Reports on reverse phone number lookups contain the name of the phone number owner, the address, relatives, property report, average income and average home value. An example for Reverse Phone Lookup for Phoenix is available @ Phoenix, Arizona Lookup. Also, FreePhoneNumberFinder.com serves numerous area codes from all around the country. Each search goes through several area codes directories, for the best possible results.
FreePhoneNumberFinder.com is a reverse phone number finder that combines the advantages of a reliable, complex free phone finder with those of a relevant search engine. In a matter of minutes, our customers find out everything there is to know on a certain phone number and the owner of that phone number without spending hours online to select relevant information. The information that FreePhoneNumberFinder.com reveals: address history, criminal records, location information and more help our customers to protect themselves, their families and their businesses. Please follow the official Phone Number Finder Blog for latest announcements.
About
FreePhoneNumberFinder.com provides information services that enable consumers to quickly and easily find services providing people and other information online by entering landline or cell phone numbers. Freephonenumberfinder.com aggregates, integrates, rates and delivers real-time people and phone search services from a variety of leading service providers to produce the best results in one location with consumer ratings eliminating the need for consumers to search across multiple websites.
Contact
If you have questions, please contact us at pr at freephonenumberfinder.com.
# Facebook Page
# Twitter Page
# # #